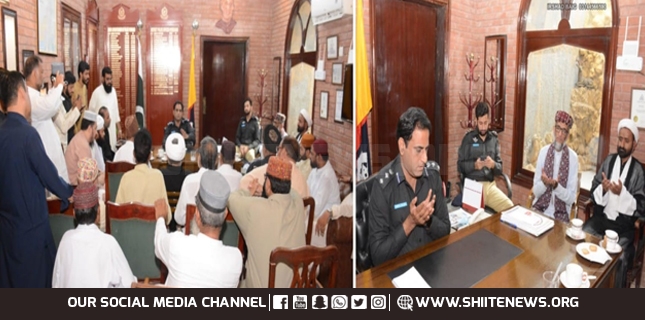 Shiite News: Shia, Sunni Ulema and elders of Hyderabad have announced boycott of blasphemous elements who disgrace sanctity of religious monuments and put peace and tranquility of the city at stake.
In this regard a meeting held in the of SSP Hyderabad under the chairmanship of Abdusalam Sheikh in which ASP Cantt among Ulema and Elders of all schools of thoughts including Dr. Sahibzada Abul Khair Zubair, Abdul Waheed Qureshi (JI), Taj Muhammad Nahio (JUI), Imran Suharwardi (ST), Allama Syed Haider Abbas Zaidi, Allama Karam Ali Haideri , Abdul Wahid Sawati, Qari Ahmed Saeedi Sanjrani, Syed Shah Khalid Saif, Safder Abbasi, Dr. Muhammad Yonus Danish, Pir Saeed Ahmed Chishti, Nazim Arain, Aqeel Ahmed Khan, Qari Mahfooz-ur-Rehman, Maulana Abrar Shareef, Khalid Saif, Ahsan Naghir, Agha Nadeem Jafferi, Sahibzada Mahmud Ahmed Qadri, Syed Abdul Ghani Shah, Naeem Akhtar Rizvi and Waqar Khan and others were present.
On this all the Ulema unanimously said that honor of Muharram Al Haram was due on all the sects of Muslims while maintaining peace and religious harmony was our divine responsibility therefore any miscreant who would disgrace sanctity of Holy month will not be tolerated.
Meeting also passed a resolution of boycott of those who create disturbance and threats for peace in the month of Muharram Al Haram by promoting sectarian differences in society.