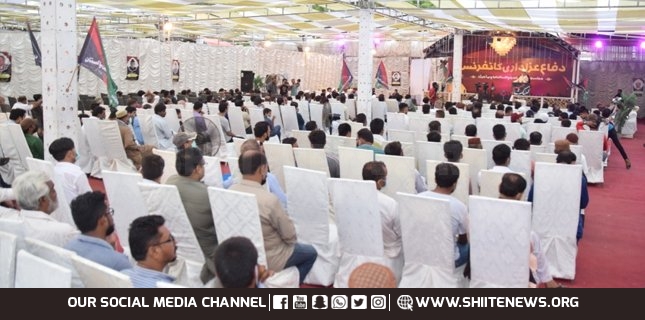 Shiite News: Head of Majlis Wahadat-e-Muslimeen Allama Raja Nasir (MWM) said that Mourn on crises and sacrifices of Chief Martyr of the World Hazarat Imam Hussain (Alaih-e-Salam) and their faithful family and fraternity at Karbala awakes human's consciousness and we can never give up it even at the cost of our lives.
He expressed such views while addressing Defense of Azadari Conference at IRCK under the aegis of MWM Pakistan, Karachi Division.
He further said that rebirth of Mid-East was an imperialistic conspiracy to bring unrest in the region. So many evil plans and challenges were waiting for us prior to start of upcoming Muharram Al Haram. Therefore whole nation especially Shia and Sunni brothers would have to express their utmost unity on said occasion to keep their Masajid and Imambargahs save from riot loving elements., while Ulema and Zakireen would have to use their pulpits and platforms to assure peace and harmony among the nation.
The conference was also attended and addressed by Allama Razi Jaffer, Allama Hasan Zafar Naqvi, Allama Baqir Hussain Zaidi, Allam Nisar Qalandari, Allama Furqan Haider Abidi, Allama Naqi Naqvi, Allama Kamran Haider Abidi, Mehdi Bhai of Buturab Scouts, SM Naqi, Shams ul Hasan Shamsi and others.