Pakistan
Wah bomber was govt-financed Lal Masjid's Deobandi takfiri student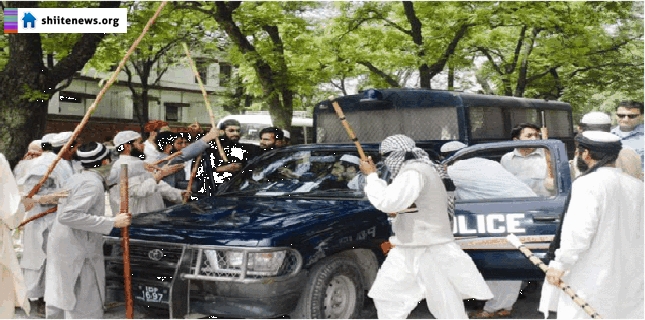 Preliminary investigation has revealed that Kosar Ali, the takfiri Deobandi suicide bomber who blew himself up at a police picket in Wah on Tuesday, had been a student at the seminary in the federal government-financed Lal Masjid of Islamabad.
But, it is not surprising that Saudi-allied PMLN government would not take any action against the Saudi-financed Wahhabis-allied Deobandi takfiris who proved by their actions that they are behind the scene real rulers of Pakistan whose founder Mohammad Ali Jinnah was a Shia Muslim.
Police and other law enforcement agencies picked up seven people on Thursday in connection with incident. Those arrested were taken to an undisclosed location for further investigation. Among those arrested are two brothers of the Deobandi takfiri suicide bomber of the cleric Abdul Aziz's seminary.
The brothers were arrested in a midnight operation conducted at their native village, Jabbi Kasran, in Fateh Jang. Kosar Ali has left behind a wife, three brothers and a sister who live in Faisalabad. His mother told the police that he had left home some three months ago and had not been in contact with the family, including his wife, since.
Police said that another brother of Kosar Ali is in Attock jail for his involvement in a murder case. Two of Kosar's brothers were construction workers while one was working as a rickshaw driver.
Meanwhile, the bomber's body has been shifted to the morgue for collection of DNA samples.