Pakistan
ISIL publishes first Urdu magazine in Pakistan, state still denies ISIL existence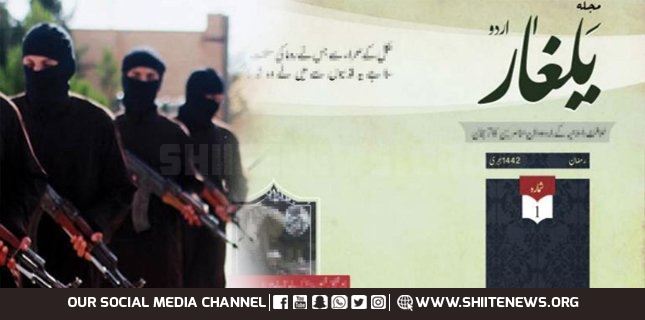 Shiite News: The US and Saudi-funded global terrorist group ISIS has started publishing a magazine in Urdu for the first time in Pakistan to spread its messages and smooth public opinion but surprisingly, the state of Pakistan still denies the existence of ISIS in Pakistan.
According to a report by the American research institute Jamestown Foundation, a branch of the international terrorist organization ISIS in Pakistan called 'ISP' has published an Urdu magazine.
A recent report by Abdul Saeed, a political scientist with the Jamestown Foundation, an international research and analytics organization, claims that in the last days of April 2021, ISIL's "invasion" in Pakistan was shared on social media accounts by an Urdu-language magazine Happened
However, Pakistani security agencies say the group has no presence in the country.
Abdul Saeed said in his article that this is the first local propaganda magazine of its kind by ISIL Pakistan (ISP). According to a study by the University of Exeter, 68 magazines were published by jihadi organizations in the Pak-Afghan region between 2013 and 2020. No magazine has been published by the Taliban since 2015. ISIL terrorist firstly appeared in Iraq and Syria, published their last magazine in 2020, after 2017.
Similarly, al-Qaeda apparently withdrew from these publications in 2017, but again in 2019 and 2020, they began to pay attention to it.
Between 2013 and 2020, high-quality pamphlets were published to attract the attention of Muslims living in most Western countries in terms of ISIL's publishing technique. According to a recent article by the Jamestown Foundation, in 2019, ISIL's Khurasan branch, ISIL Pakistan, has not yet strengthened its roots in the country as expected by its central organization.
Independent Urdu asked Information Minister Fawad Chaudhry if ISIL's magazine had been published in Pakistan, what was the government doing to prevent it? He replied that he would talk to the concerned agencies in this regard. However, despite the reminder, he only said that I have forwarded your question.
The Independent Urdu also contacted the officials of the anti-terrorism agency NICTA but they did not respond.
In this regard, Shahid Khan, an analyst with a keen eye on the Pak-Afghan security situation, told Independent Urdu correspondent Anila Khalid that there is a lot of speculation about the presence of ISIS in Pakistan and in fact the presences of ISIS in Pakistan is almost non-existance.
According to Shahid Khan, there were reports of ISIS supporters in Waziristan, Para Chinar, Karam, Bajaur and Rawalpindi, Sahiwal and Malir in Karachi. However, security agencies took timely action against the suspects, killing some and arresting others.
"Terrorist organizations are using print magazines to spread their message to each other," said Shahid Khan, an analyst on the issue of ISIL launching its print magazines in Pakistan. This is because unlike online publishing, hidden content can reach any place where there is no Internet access.
Shahid Khan said that the presence of ISIS in Pakistan is almost non-existent, so even if they have such a magazine in Pakistan, its purpose may be to provide this material to their supporters in Afghanistan or remote places in Pakistan. Distributing these magazines in Pakistan is not easy, so if they ever have to do so, they usually do it in the dark of night.
Published in April 2021, ISIL Pakistan's 30-page magazine, Invasion, includes 10 articles, an editorial and a pictorial article on Ramadan.
The magazine details ISIS operations in Pakistan, Afghanistan and Syria. The infographics praised the recent attacks by ISIS in Pakistan and India and the propaganda videos published by ISIS.
An e-mail address and a telegram address are provided at the end of the magazine for readers' suggestions. This magazine has also apparently been shipped over the telegram.
What's in this ISIS magazine?
It is written in the editorial of the magazine that this is the first 'regular Urdu magazine' of ISIS.
The design of the magazine is excellent and it seems that a professional graphic designer has designed the magazine with great effort and attention. The entire magazine is printed in four colors and has pictures and designs on almost every page.
The language of the magazine is quite Arabic and unfamiliar words appear in many places, for example, "Takwini Sunnah," "Sahowat," "Tawaghit," and so on. In some places it seems that this is not an original Urdu text but a translation.
Magazine articles encourage jihad, guerrilla warfare and war. One of the articles is entitled: "Research, we have come to slaughter you." This is the only article in which Pakistan has been made the subject. In this article, the government of Pakistan has been repeatedly called an apostate and infidel and democracy an infidel system.
There is also an article entitled "Promised by the Truth" written "from a sister's pen" and it is basically a travelogue of Syria. Furthermore, since the magazine was published in Ramadan, it also has a section on fasting in which the rules and issues of fasting are explained with the help of infographics.
Another interesting thing is that Allama Iqbal's famous poem "who came out from the Desert to overthrew the Roman Empire" is inscribed on the cover of the magazine.