Pakistan
Ruling PPP's Nadir Magsi patronizes terrorists in Shahdadkot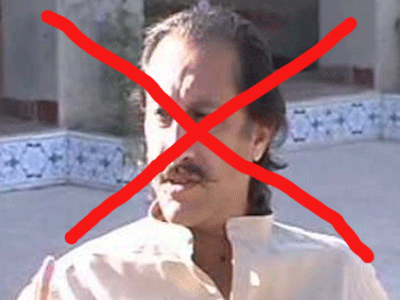 Police has excused taking action against nasbi/wahhabi terrorists in Qambar-Shahdadkot district because Provincial Minister Mir Nadir Magsi patronizes them, according to a high official of Sindh Police.
Nasbi terrorists have been making attacks on the lives and properties of Shia Muslims and sanctities of Shia Islam for last 6 months.
They have attacked Imam Bargahs and also destroyed alam paks that are attributed to Hazrat Abul Fazl Abbas (AS), flag bearer brother of Imam Hussain (AS) in the war of Karbala against Umayyad ruler Yazid.
Haji Shafqat Haarho, president of Shia Ulema Council, district Qambar-Shahdadkot chapter was also murdered due to nasbi attack with lethal weapons. Despite the protest and pressure exerted by the heirs, relatives and party members of the SUC, police have not taken appropriate action against the terrorists.
According to reports from the district, murderous attempt on the life of son of Haji Shafqat Haarho was also made. That attempt was aborted and the martyr's son escaped unhurt. Latest reports say that the terrorists have also fired upon Shia Muslims mosque.
On the complaint of Shia Muslim notables, a high official of Sindh Police divulged to them that police cannot take action because Nadir Magsi, provincial minister warned him that the district affairs belong to him and he didn't want action against the religious nasbi fanatics.
It is relevant to add here that Mir Nadir Magsi was accused of huge corruption and he chose to spend his life in exile to avoid arrest during the tenure of former government.
Pakistan People's Party (PPP) claims to be fighting the terrorists, fanatics and extremists. Charges of Benazir Bhutto's murder were also framed against such terrorists. It is strange that a PPP-led government minister patronizes thugs and terrorists.
Mir Nadir Magsi's policy runs parallel to the stated policy of the PPP government that is elimination of terrorism and extremism.
Shia parties, leaders and notables have expressed surprise over hypocrisy of the ruling coalition. They have condemned Nadir Magsi's patronage of terrorists. They demanded of the higher authorities of the government and PPP to take notice of this hypocrisy. They have demanded immediate action against all the terrorists in the district Qambar-Shahdadkot.