Pakistan
Future of Islamic World is brighter: International Islamic Awakening Conference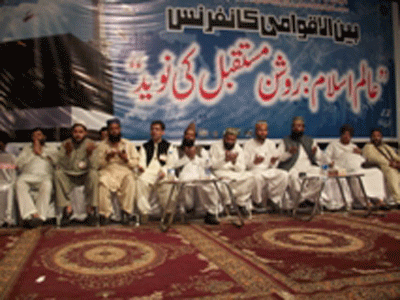 Speakers at an international conference on Islamic World and Herald of Brighter Future said that nobody can stop Islamic Awakening from growing.
They said that united efforts have to be made to save Islamic world from U.S. meddling into their affairs.
The conference was held under the aegis of Al-Baseerah Trust at Nishtar Hall in Peshawar. Those spoke were: Jamaat-e-Islami's Qazi Hussain Ahmed, Allama Sajid Naqvi of Shia Ulema Council, Allama Amin Shaheedi of Majlis-e-Wahdat-e-Muslimeen, former ISI chief (Gen.) Hameed Gul, Sahibzada Abul Khair Zubair of the JUP, Allama Ramzan Tauqeer, Dr Fareed Paracha, Hizb-e-Islami Afghanistan's Dr Ghairat Baheer, Ibtisam Ilahi Zaheer of Jamiat Ahl-e-Hadees, Ghulam Mohammad Faseeh of All Parties Hurriyet Conference, Minhaj ul Quran's Miskeen Qadri, Raghib Hussain Naeemi of Jamia Naeemia, Dr. Q Ayaz Vice Chancellor of Peshawar University, Faqeer Bukhari of PML, Allama Mirza Yousuf Hussain, Qazi Ahmed Noorani and Allama Asghar Dars and Hameed Akhtar Niazi.
All the speakers at the conference stressed on the need of unity of Muslims. They said that unity and united efforts are the only way to achieve goals. They said future of Islamic World is brighter but it needs unity and tolerance.
They were of the views that Muslim governments have to join hands and present a united viewpoint on critical issues such as oppression of Muslims in Palestine, Kashmir and Afghanistan.
They welcomed revival of Milli Yakjehti Council and proposed that Muttahida Majlis-e-Amal should also be made functional to help establish unity.
The speakers at the conference declared that Iranian government's policies are a role model for all the governments. They said that Muslim Ummah have to get rid of those rulers who toe the line of the United States of America.
They rejected inter-sectarian differences of Shia and Sunni Muslims and cited Hezbollah and Hamas models for unity of Ummah.