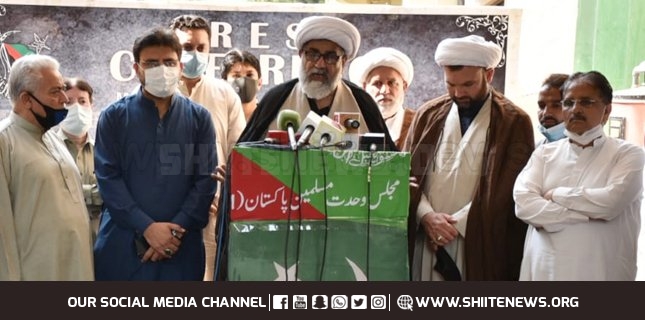 Allama Raja Nasir Abbas Jafari, Central Secretary General of Majlis-e-Wahdat Muslimeen Pakistan, while addressing a press conference at MWM Central Secretariat against registration of unwarranted cases against Shia mourners in Punjab and their arrests said that the provincial government of Punjab is treating our mourners as per their enemies. It seems that Modi is ruling on Punjab. We cannot be pressured by the misuse of power. If the government does not stop its unconstitutional tactics, it will be wise to hold a nationwide mourning convention in the federal capital and to announce a coordinated strategy.
He said that a constitutional petition against unfair and unjust treatment of Shiites was also being considered. State institutions are mistaken if they consider themselves above the Constitution and the law. Our mournings and processions are not like a political gathering to banned and restricted. Federal and provincial governments should handle the situation in a democratic way. It is not a monarchy or dictatorship to impose orders on the people. The government should take the stakeholders into confidence before making such decisions. Public consultation and exchange of views are essential in sensitive decisions. We still remember the inhumane treatment meted out to the Shia nation at the incident of Ashura.
He said we are standing with the nation from the first day. Every of MWM support to any government is just for interest of public. If the current government does not change its attitude, we will be in the ranks of its opponents. We have always stood by our people. Our only demand is to remove all obstacles to our mourning. We are a civilized nation. We have protested peacefully with hundreds of bodies. Our desire for peace should not be considered a weakness.
He demanded to close all the cases registered in Punjab against the mourners, organizers and founders of processions of Youm e Ali A.S and also demanded the immediate release of captive mourners. The founder of processions, trustees and head of different organizations participated the press conference with him.