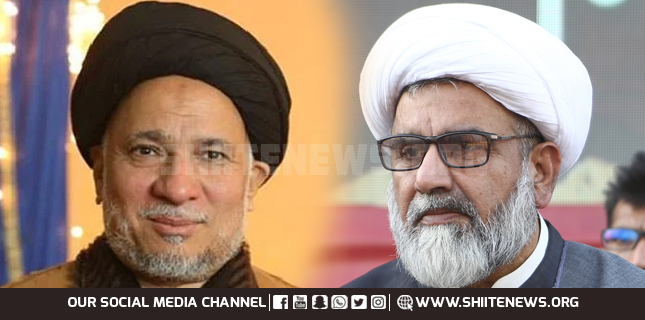 MWM Pakistan SG remembers Allama Aun Naqvi as national asset and symbol of unity and fraternity of Muslims and Pakistani nation.
Allama Raja Nasir Abbas Jafari stated this in his condolence message to the bereaved family.
MWM Pakistan SG remembers Allama Aun Naqvi
Majlis-e-Wahdat-e-Muslimeen Pakistan secretary general expressed deep grief over sad demise of Allama Syed Mohammad Aun Naqvi.
He lauded his role as an eminent Islamic orator and preacher of unity and fraternity.
Moreover, he termed his death an irreparable loss for the entire Shia Muslim community of Pakistan.
He prayed Almighty Allah to grant courage to the bereaved family of Allama Aun Naqvi.
Meanwhile, Allama Baqir Abas Zaidi, Allama Sadiq Jafari and Allama Mubashir of the MWM also condoled.
They lauded his role as Shia Islamic orator and scholar who enlightened people on Islamic history in the background of battle of Karbala.
Furthermore, they said Allama Aun Naqvi enlightened people on the infallible family of Prophethood (Ahle Bayt) of Hazrat Mohammad, the last Prophet and apostle of God.
During his life, Allama Aun Naqvi served as chairman Hajj-Umrah-Ziarat Committee.
He also remained affiliated with Jafaria Alliance Pakistan.
Meanwhile, religious scholars have offered condolences to his family over his sad demise.