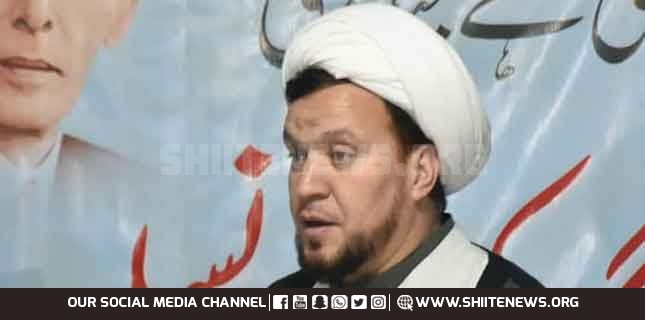 Allama Ejaz Behishti warns against crime of enforced disappearance, while addressing during Friday prayers sermon.
He expressed these views at Kachur Skardu James Masjid.
MWM Youth Affairs secretary said that no law-abiding citizen can tolerate this heinous crime of subjecting patriot citizens to enforced disappearance.
Allama Ejaz Behishti warns against crime of enforced disappearance
He said that Karachi-based families of victims of enforced disappearance are protesting at sit-in since Friday April02.
He said enforced disappearance is considered a heinous crime, violation of law and especially humanitarian law.
Allama Ejaz Behishti asked the government not to test patience of peaceful Shia Muslim community anymore and release the innocent illegal detainees.
Furthermore, he said, the authorities may produce them in courts of law for trial if they have any charges against them.
Meanwhile, main sit-in protest against enforced disappearance of innocent Shia Muslim citizens of Pakistan entered 9th day on Saturday.
Families of Shia missing persons have been protesting at the sit-in camp outside mausoleum of founder of Pakistan Quaid-e-Azam Mohammad Ali Jinnah since Friday April 02.
On Friday, supporters of the committee held protest rallies and demonstrations from Karachi to Skardu.
Moreover, they demanded immediate release of all patriot Shias whom the agencies subjected to enforced disappearance anywhere in Pakistan.
Notably, the protester are protesting sit-in under the aegis of Joint Action Committee for Shia Missing Persons.