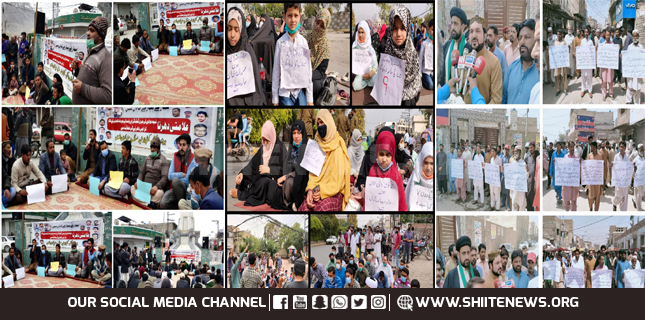 Shia Muslims sit in across Pakistan against enforced disappearance of loyal sons of Pakistan.
They came out on Sunday to hold sit-in on an appeal from Joint Action Committee for Shia Missing Persons. It also includes members of the families of victims of enforced disappearance.
Shia Muslims sit in across Pakistan against enforced disappearance
Sit-in protesters condemned unjustifiable enforced disappearance of patriot Shia Muslims.
Meanwhile, sit in protest against enforced disappearance of Shia Muslims enter 3rd day on Sunday.
Families of the victims of enforced disappearance have set up main sit-in camp in Karachi. Protesters include women and children are sitting under open sky amid heave-wave.
However, till filing of this report, nobody from state security establishment and the government came to hear them.
Meanwhile, Shia Muslims condemn callousness of power that be towards peaceful and patriot citizens of Pakistan.
They condemn enforced disappearance of peaceful people and also condemn the fifth column who continue to patronize takfiri terrorists.
Why Shia Muslims being victimized!?
They reminded the authorities concerned that they should have focused on those who massacred schoolchildren of Army Public School Peshawar and those who facilitated perpetrator of the APS massacre namely Ehsanullah Ehsan of outlawed TTP.
Many Shia Muslims view the sit-in also as a protest against the fifth column who brought attacks on military headquarters across the country.
They believe that such elements subject innocent Pakistanis to enforced disappearance to divert attention from outlawed takfiri outfits' terrorists.
Affected families began sit-in protest on Friday, while demanding end to enforced disappearance of innocent Shia Muslims immediately.
Shia families of the victims of enforced disappearance marched from Mehfil-e-Shah-e-Khorasan.