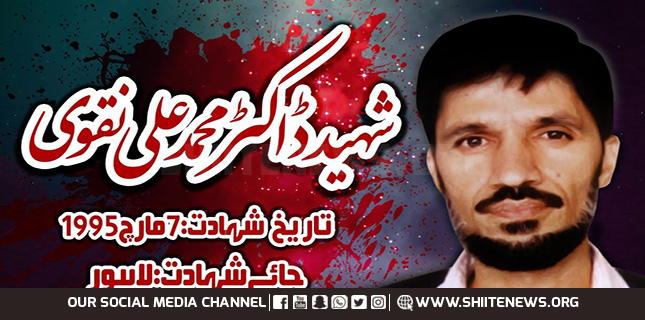 26th anniversary of martyrdom of Dr Mohammed Ali Naqvi observed across Pakistan yesterday (Sunday).
He and his driver embraced martyrdom in an organized terrorist attack in Lahore on March 07, 1995.
26th anniversary of martyrdom of Dr Mohammed Ali Naqvi observed
The Imamia Students Organisation (ISO) which Dr Naqvi co-founded hosted the main two-day event in Lahore.
Specially, it hosted an event Martyrs Night between March 6 and 7.
On Sunday, Imamia Scouts Parade and Guard of Honour held at the grave of the great martyr Dr Naqvi.
Meanwhile, religious scholars, martyrs' families and ISO officials expressed their views especially the great martyr Dr Mohammad Ali Naqvi.
Dr Naqvi remains source of inspiration for youth to date even after his martyrdom.
Notably, he led a simple life and altruistically served the oppressed humanity.
Besides, Dr Naqvi served Pakistan as a medical doctor and a social worker without any discrimination.
Politically, he co-pioneered and kept active the Tehreek-e-Jafaria, Imamia Organisation and Pasban-e-Islam as well.
His driver and loyal comrade Mohammad Taqi also embraced martyrdom alongside him in Lahore.
On 26 the anniversary, Dr Mohammad Ali Naqvi's daughter Syeda Zahra Naqvi, MPA, also issued a statement.
She reminded his admirers that Dr Naqvi taught youth to rise against enemies of Islam and the motherland (Pakistan).