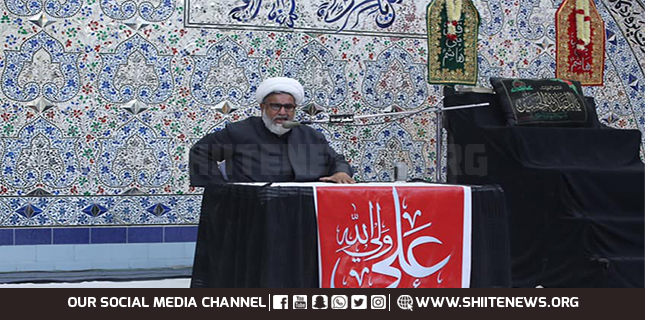 Allama Raja Nasir slams remnants of former dictator Zia for current crisis that continue to engulf the entire country even to date.
MWM Pakistan secretary general Allama Raja Nasir Abbas Jafari was speaking at Imam Bargah Dinga Sharif Gondal Road.
Allama Raja Nasir slams remnants of former dictator Zia
He addressed an event held on the issue of Kashmir and Palestine and in commemoration of Martyrs of Mach massacre.
Majlis-e-Wahdat-e-Muslimeen (MWM) leader said that former Martial Law dictator Gen Ziaul Haq sowed the seed of mischiefs in Pakistan.
However, he lamented that his remnants continue to follow unholy mission of that dictator so far.
Specially, he was implying to takfiri nabsi divisive ideology of intolerance, hatred, violent extremism and terrorism.
But he hastened to add that MWM and its supporters believe in unity of Muslims and Pakistani nation and peaceful co-existence of all of them.
Moreover, he said that enemies seek to impose pessimism among Pakistanis but united Pakistanis will inflict crushing and humiliating defeat upon them.
He further said that Pakistanis believe in the saviour of the oppressed humanity (Imam Mehdi); hence they cannot lose hope.
However, he urged his party's officials and members to make environment favourable for this ideology of hope due to divine blessing.