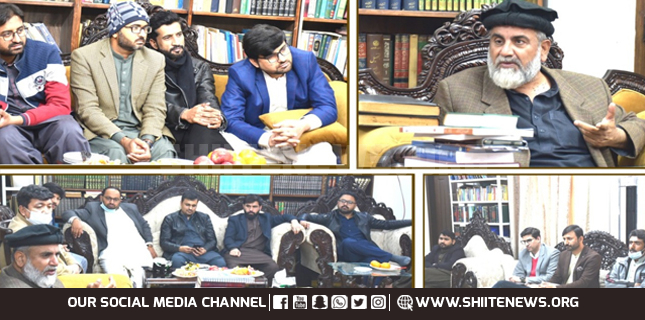 Social media activists laud vision of Allama Raja Nasir Abbas Jafari, secretary general Majlis-e-Wahdat-e-Muslimeen (MWM) Pakistan.
YouTubers, bloggers and those have huge following on social media platforms expressed these views.
Social media activists laud vision of Allama Raja Nasir
They praised the after having a meeting with the eminent Shia Islamic party leader.
Allama Raja Nasir elaborated his viewpoint regarding use of social media platforms.
He highlighted various aspects of current affairs and role of media and specially the social media.
Moreover, he enlightened them on factual position of various national and international issued and ground realities of the world.
MWM Pakistan secretary general urged them to defend ideology of Pakistan, while using social media platforms.
He said that they can defeat enemies through their timely logical counter narratives.
Meanwhile, those met him requested Allama Raja Nasir to hold a regular monthly interactive meeting.
They admitted he had an in depth knowledge and insight of current affairs of the country and the region.
Meanwhile, Allama Raja Nasir has a different viewpoint as compared to many Pakistani ruling elites regarding the Muslim world situation.
The MWM leader focus on the issues of Kashmir and Palestine and also reject misleading assertions regarding Haj Qassem Soleimani.
Moreover, he said Qassem Soleimani defended Pakistan, Muslim Ummah and the entire oppressed humanity as well, let alone Iran, Iraq or Syria.