Pakistan
Shiite Ulema's warns to block the main streets of karachi on friday against the illegal apprehension of their youths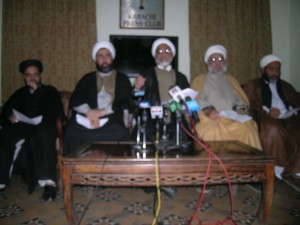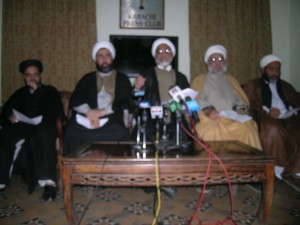 Shiite News Correspondent:Shiite ulema's on thursday warned to block the main artilleries of Karachi to protest against the  illegal apprehension  by the police of the Shia youth.
While addressing the press conference at Karachi Press Club.Maulana Sheikh Hassan Salahuddin, Maulana Mukhtar Imami, Mirza Yousuf Hussain along with other Shiite Ulema's said that, on Friday all the main roads of the city will be blocked and the squads of the Shiites will flagellate against the unlawful detainment of their innocent youths who were arrested in raids in different areas of the city on Wednesday.
They mentioned that the procession will pass through its old routes and if anyone tried to interfere or curtail the march they will protest on the country level.
They warned the high-ups to take effective measures upon this development otherwise the protests will be escalated in every part of the country adding that the blockage of the thoroughfares will be the first step.
During the conference a Shiite woman appealed the authorities to release her innocent brother Muntazar Naqvi who were arrested in a raid last night in the jurisdiction of Peoples Colony.
Shiite Ulema's informed that about 86 people were arrested and accumulated in Darakhshan police station who belonged to different sects including Shiites and Sunnis last night.
They appealed the authorities to release the innocents and take immediate action against the terrorist elements who arson and ransacked the Boltan market instead of implicating the false cases on the Shiite youths.
Moreever, At least 6 more Shia youths were nabbed by the police in connection with riots and arson inflicted following Karachi bombing at Asuhra procession on M.A Jinnah Road. The new arrests have been made from separate parts of metropolis including Ancholi(Saddat Colony), Samanabad, Peoples Chowrangi, Gulistan-e-Johar, Malir and Jafar Tayyar areas. According to police sources, those apprehended were allegedly accused of triggering riots and setting ablaze many government and private vehicles, shops located in Bolton and Light House Markets, buildings and ransacking banks after bomb attack at main Ashura procession on M.A. Jinnah Road on 10th of Muharram. However, denying any likeliness of torture on held alleged culprits, police said they will only be investigated but the families of detained youths alleged the brutal torture on their beloved by the police person.
Maulana Dr Aqeel Moosa, Maulana Abbas Waziri, Ghulam Muhammad Fakhruddin and others attended the conference.