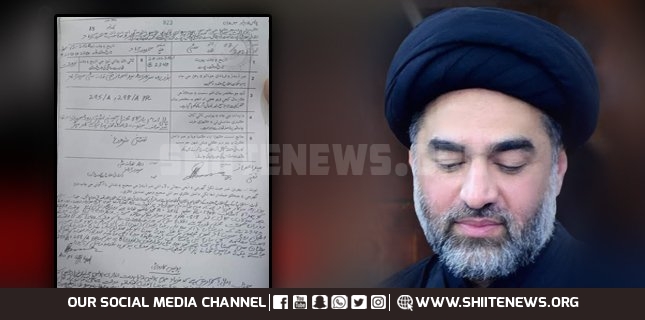 Eminent Shia Islamic scholar Allama Ali Raza Rizvi implicated in false case in Hyderabad (Sindh).
City Police Station Hyderabad registered a false FIR against Allama Ali Raza Rizvi (London) after he addressed a mourning congregation.
Eminent Shia Islamic scholar Allama Ali Raza Rizvi implicated in false case
Ironically, police itself has launched a biased campaign against Shia Muslims.
The State itself is impeding Shia Muslim citizens of Pakistan from exercising the Constitutionally-guaranteed fundamental rights.
Meanwhile, legal experts says that police FIRs against Shia Islamic scholars amount to an attack on religious freedom of Shia Muslims.
They also ask if the police or other state institutions want Shia Muslims to follow non-Shia teachings in their mosques and Imam Bargahs!?
Furthermore, Shia citizens of Pakistan has demanded an end to registration of false cases against Shia Islamic scholars.
Ironically, hatemongering violent extremists of outlawed terrorist outfits enjoy complete freedom but police file cases against Shia Islamic scholars for reading Muslim history.
Ludicrously, outlawed terrorist outfits ringleaders feel free to slur followers of Shia Islam and massacre them at will. Besides, they blame Shia Muslims for blasphemy when the latter quote facts from Muslim history.
Meanwhile, Shia Muslims rejected FIRs against scholars for sharing facts quoting Muslims history.
Allama Syed Sibtain Sabzwari of Shia Ulema Council condemned ringleaders of outlawed takfiri terror outfits campaign against Shia Muslims.
He further said that hatemongering takfiri nasbi clerics are trying to fan sectarianism and violent extremism.
Therefore, he demanded the government and other state institutions to take stern action against them.
Allama Sibtain further said that Sunni and Shia Muslims in Pakistan don't fight each other but stooges of imperialism seek to mislead the world.
Moreover, he said that the government and security agencies need to take due action against them under National Actional Plan.