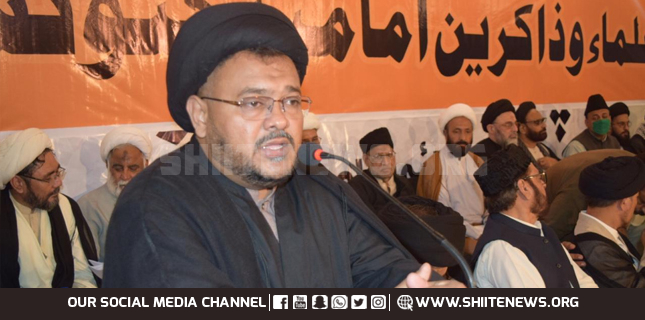 Shia Ulma Council announces long march from Sukkur to CM House Karachi in February 2021.
The SUC Sindh chapter president Allama Syed Nazir Abbas Taqvi made this announcement in Karachi.
Shia Ulma Council announces long march from Sukkur to CM House
He underscored the long march a protest against biased and discriminatory FIRs against Shia mourners.
He said protesters will begin long march from Sukkur on February 14.
They will reach Sindh Chief Minister's (CM) House in Karachi.
Shia Muslims and their supporters say that they commemorate Imam Hussain-led Martyrs of Karbala trough annual events.
They said nothing new happened in the year 2020 but the government and the police launched an unprecedented discriminatory witchhunt.
Therefore, they said they would not tolerate such dirty tactics to prevent Shia Muslims and their allies and supports from enjoying religious freedom.
Meanwhile, one Zulfiqar Rizvi approached Sindh High Court to seek justice against registration of FIRs based on unlawful charges.
He has filed a petition in Sindh High Court to nullify FIRs against Shia mourners who had walked to join Arbaeen (Chehlum) mourning procession.
Shia Muslims participate in the annual mourning processions, especially on Ashura and Arbaeen (Chehlum).
They walked to join Arbaeen azadari in commemoration of Imam Hussain-led Martyrs of Karbala.
But police registered FIRs against them why they walked to join Arbaeen mourning processions.
Meanwhile, Shia Ulma Council (SUC) leaders Allama Shabbir Maisami, Allama Nazir Taqvi, Allama Abid Raza Irfani, Allama GM Kararvi and Allama Kamran Abidi also accompanied Zulfiqar Rizvi.