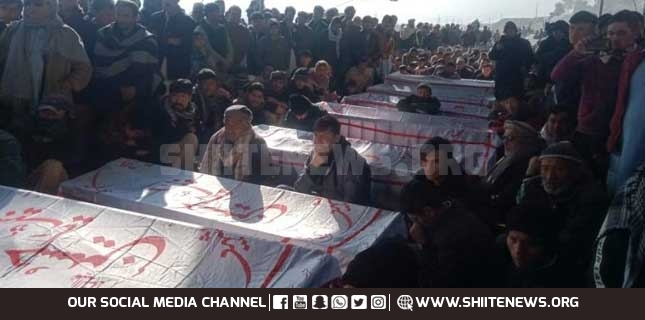 Ali Zaidi and Zulfi Bukhari fail to persuade Hazara Shia end sit in protest which they are holding in Quetta alongside coffins of martyred coal mine workers.
Federal Minister Zaidi and Special Assistant to the Prime Minister Zulfiqar Abbas Bukhari visited Quetta sit in camp.
Deputy Speakers National Assembly Qasim Khan Suri accompanied them.
Ali Zaidi and Zulfi Bukhari fail to persuade Hazara Shia
However, the families of the martyred Hazara Shia coalmine workers refused to end sit-in.
They reiterated their demand that Prime Minister Imran Khan should come to listen to them at the sit in camp.
A video clip has gone viral on social media in which Zulfi Bukhari seems to bargain with the protesters.
He said what they would give to Prime Minister if he comes. The protesters replied it would benefit the entire nation, let alone the protesting families.
Because, the families would directly talk to the Prime Minister and the latter would hear them directly and meet their demands.
Earlier, federal interior minister Sheikh Rashid Ahmed also visited Quetta sit-in camp but he too failed.
Balochistan's provincial government has held talks for three times but they also failed.
Friday prayers leader Allama Syed Hashim Mousavi and former provincial minister Agha Syed Mohammad Raza lead the protest.
Meanwhile, Quetta sit in along with coffins of Hazara Shia martyrs enter 4th day today (Wednesday).
Meanwhile, sit in protest continue from Karachi to Parachinar for Hazara Shia martyrs till this report.
While defying cold weather, Shia Muslims have come out on streets to continue sit-in.
They are expressing solidarity with the main sit-in protest which the bereaved families of the martyred Hazara Shia coalminers continue to hold in Quetta.
Hazara Shia massacre at Mach coalmines has compelled the families of the victims and their supporters to begin sit-in protest.
In Karachi alone, protesters continue to hold sit-ins at many locations.
Meanwhile, according to international and Arab media, ISIS Daesh claimed responsibility for massacre of Hazara Shia coalminers.
However, Pakistanis know well that outlawed Sipah Sahaba (ASWJ) and Lashkar-e-Jhangvi serve as local facilitators of Daesh (ISIS).
Nowadays, they also use the name Rah-e-Haq party a cover to divert world public attention from their real affiliation.
Ramzan Mengal and remnants of Usman Kurd follow the ideology of M Ahmed Ludhianvi, Aurangzeb Farooqui. Together they follow the malicious ideology of hate and bigotry of Haq Nawaz Jhangvi.
These sectarian thugs and fanatics came to surface during Martial Law regime of General Zia ul Haq, the ally of the U.S.-led West.
Notably, Saudi Arabia also belongs to the same bloc and aforesaid takfiri terrorists also remain loyal to Saudi monarchy.
Saudi embassy in Islamabad hosts these terrorists of outlawed takfiri Deobandi nasbi terrorist outfits.