Pakistan
Federal Minister express condolence with Shia leaders and demand judicial inquiry of Ashura blast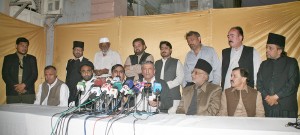 Federal Minister for Railways Ghulam Ahmed Bilour and Jaffaria Alliance President Allama Abbas Kumaili on Wednesday demanded the high level judicial probe of the Ashura bomb blast. They said that this was not the only a conspiracy against the people of metropolis but also a conspiracy against the country. They were addressing the joint press conference at Allama Abbas Kumaili House, followed by a meeting to express condolence to the Shia leaders regarding the bomb blast in Ashura. Awami National Party Sindh Chief Shahi Syed, Provincial Secretary General Ameen Khattak, ANP's Provincial minister Ameer Nawab and others accompanied the Federal Minister.
Ghulam Ahmed Bilour underlined the need to crush the hands involved in the Ashura bomb blast saying that bomb blast on Ashura procession and arsons incidents were well-planned. He appealed to the Ulema's and religious scholars to play their role to end the religious differences among the religious school of thoughts saying that this kind of situation was the threat for the stability of the country.
He said that the mourners were not involved in the fire and looting incidents saying that miscreants had involved in the looting and arsons incidents on Ashura.
Bilour said that holy Quran is prohibited the killing of innocent people saying that those who involved in the killing and bloodshed of innocent people are not to be called Muslims.
He said that ANP is the secular party but we are following the teachings of Islam saying that secularism gives the lesson to respect humanity and religions.
He said that we came here to express condolence to the community over the lost of precious lives.
He said that Pukhtoon community was suffering the decisions of former General and religious leaders, who used the Pukhtoon community for their vested interest in the name of Jihad in Afghanistan.
Allama Abbas Kumaili said that Ashura blast was a conspiracy against the country adding that there is no shia and sunni conflict in the country.
He said that some extremist's elements were involved in the heinous acts to fulfill their vested interests.
He asked the religious parties to end their double views regarding the bomb blast and suicide incidents in the country saying that these are the enemy of Pakistan and Islam.
He demanded of the government to arrest the real culprits involved in the Ashura blast and denounced the arrest of Shia youths in the connection of arsons incidents saying that after the media revelations of facts the picture was cleared.
Earlier, the ANP leaders were held the meeting with the Jaffaria Alliance leaders at Allama Abbas Kumaili house. Allama Nisar Ahmed Qalandari, Allama Aftab Jafari, Maulana Hussain Masoodi, Salman Mujtaba, Shabar Raza, Ali Ahmar, Sabir Karbalai, Allama Ali Karar Naqvi and others were present on the occasion.