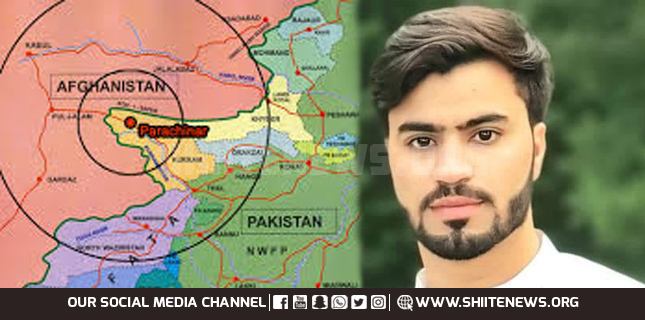 Shia youth Hasnain Roohani subjected to enforced disappearance while he was going to Peshawar.
Clad in police uniform and in civilian dress, the cops pulled him out of vehicle at Matni area.
Shia youth Hasnain Roohani subjected to enforced disappearance
They shifted the youth from Parachinar to unknown place for subjecting him to enforced disappearance.
He is son of renowned Shia Islamic scholar Allama Ahmed Ali Roohani.
The affected family made contacts with the higher police authorities but they didn't share details regarding Hasnain Roohani.
More than a dozen youth and notables from Parachinar have already been subjected to enforced disappearance.
People of Parachinar condemned this uncalled for victimization and unjust policy regarding peaceful Shia Muslim community and particularly of Parachinaris.
Shia notables of Parachinar have asked Chief of the Army Staff to ensure end to enforced disappearance of innocent Shia youth, immediately.
Joint Action Committee for Shia Missing Persons
On the other hand, Joint Action Committee for Shia Missing Persons said Pakistani Shia Muslims believe in rule of law while law of Pakistan recognizes freedom and other fundamental human rights of all Pakistanis Hence, Shia Muslims support rule of law and under that demand immediate release of missing Shias.
Shia Muslims have rejected this unlawful and unconstitutional policy of the security establishment.
Missing persons is also used as a term for victims of enforced disappearance which security agencies imposed upon them merely on suspicion.
But it shocked and dismayed Shia Muslim community because they never took weapons against the state besides they never did anything against national security.
Despite their patriotism and huge services for Pakistan, pro-Saudi biased officials treated them as though they violated national security.
Innocent Shia youth and notables have been suffering due to that biased mindset.
Joint campaign
The affected families, Shia Islamic parties, scholar, notables and other community leaders have been running a joint campaign to seek justice.