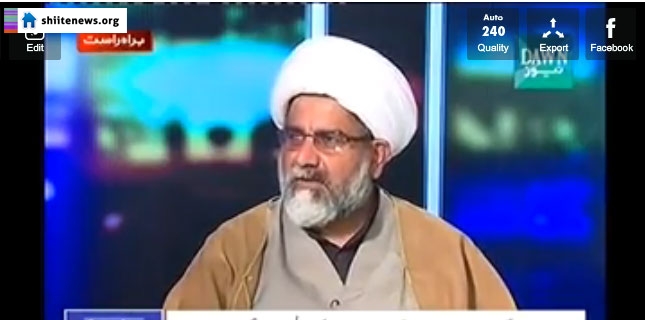 Allama Raja Nasir asks PTI govt to beware of such fiends who have become of enemies.
Majlis-e-Wahdat-e-Muslimeen Pakistan secretary general alerted the government, while commenting on unveiling of more lethal dimension of Indo-Zionist-GCC3 nexus.
Together they all have joined U.S.-led Zionist Israeli bloc.
Allama Raja Nasir asks PTI govt
Hence, the MWM leader urged the government of Pakistan to make it clear that Pakistan would not accept any sort of pressure in favour of Israel.
Meanwhile, he condemned Indian atrocities in occupied Kashmir and called Indian brutalities the worst during the current century.
Allama Raja Nasir also warned the government to stay alert for security of China Pakistan Economic Corridor project.
He said enemies want to sabotage this project because of its vitality for economy of the country.
Saudi regime blackmails Pakistan government
Pakistanis express dismay vis-à-vis India's growing nexus with Saudi Arabia, UAE and Bahrain because Saudi regime blackmails Pakistan government to recognize Israel at the earliest.
Analysts believe Saudi monarchy is also using deportation as a pressure tactic to compel Pakistan government to recognize Israel.
Latest reports had it Saudi regime has ordered deporting 1500 Pakistanis to blackmail the government of Pakistan.
Pakistani media reported at least 1500 Pakistanis have been languishing at the deportation centre in Saudi Arabia because of travel-cost issue.
The reason seems ludicrous because even in genuine deportation cases, travel cost doesn't matter.
In such cases, the two countries coordinate and ensure smooth deportation immediately.