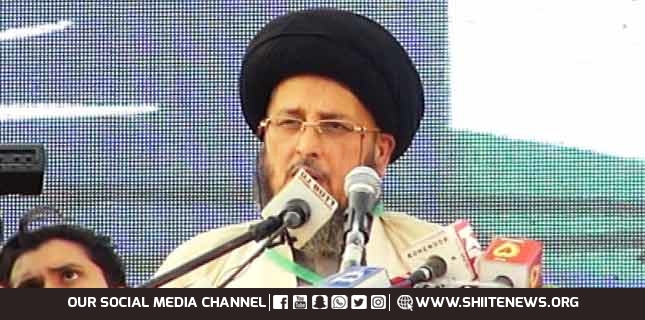 Allama Sibtain demands action against those destroyed Shia mosque and also desecrated Holy Quran in Moza Sanguraka in district Sargodha's Sahiwal tehsil.
Shia Ulema Council Punjab-based leader also questioned write of the state.
Allama Sibtain demands action
He also lamented lack of action of the federal and provincial governments and police department.
The SUC leader Allama Syed Sibtain Sabzwari asked if this is Imran Khan's so-called State of Madinah where chauvinist and fanatic cleric desecrate Quran and mosque.
He demanded stern action against the violent extremist cleric (and his followers) who destroyed Shia mosque. He said perpetrators of this blasphemous heinous crime also desecrated Holy Quran.
Moreover, the SUC leader said these terrorists are toeing the line of Indian RSS fanatics in Pakistan.
He said that Pakistanis would not allow anyone to turn Pakistan into a Modi State and would not allow desecration of Quran and mosque.
Outlawed Sipah Sahaba terrorists demolish Shia mosque in Sargodha district's Sahiwal tehsil.
Fanatics from takfiris of Deobandi sect's outfit Sipah Sahaba perpetrated this heinous crime in Moza Sanguraka in Sahiwal tehsil of district Sargodha.
Outlawed Sipah Sahaba terrorists demolish Shia mosque
They did it in the darkness of night when they stormed the mosque built with bricks. They damaged roof and wuzoo khana, while they also demolished walls.
Police of the area registered case on complaint from Shia notable Syed Intikhab Ali Sherazi.
Meanwhile, Shia Islamic community has slammed Imran Khan-led government of Pakistan and his PTI's government in Punjab for their failure against hatemongering sectarian thugs.