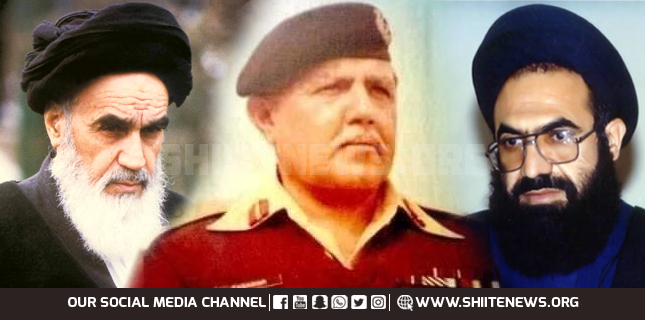 Retired army general Tasawwur Hussain Shah Naqvi passes away at CMH Kharian in district Gujrat.
He was laid to rest in his native town Madina Syedan (Gujrat).
Retired army general Tasawwur Hussain Shah
As a professional soldier and loyal son motherland Pakistan, he never compromised on principles based of ideology of Pakistan.
Military dictator Gen Zia disliked him because of that uncompromising attitude.
Syed Tasawwur Hussain Shah Naqvi (Khwarazmi) had a pious soul in himself. Hence, he preferred accompanying those who had followed revolutionary ideology of Pakistan.
Allama Iqbal, the ideologue of Pakistan, had envisioned a free Muslim welfare state. Founder of Pakistan Mohammad Ali Jinnah had given title of National Poet to Allama Iqbal posthumously.
Seemingly, retired General Tasawwur Hussain saw that vision in Allama Syed Arif Hussain al Hussaini, so, he began companionship with him.
That post-retirement association brought him closer to the ideology of Islamic revolution of Iran.
A different army general of Pakistan
And that made him a different army general of Pakistan because mostly the retired generals preferred and continue to prefer U.S., Western country, Saudi Arabia or UAE.
Former chief of army staff General Raheel Sharif (retd) is now serving in Kingdom of Saudi Arabia.
Ex-DG ISI Gen Ahmed Shuja Pasha had served in UAE. Former army chief Gen Jahangir Karamat had gone to U.S.
But General Tasawwur (retd) remained a distinguished army general who remained stick to ideology of Pakistan that brought him closer to identical ideology of Iran.