Pakistan
Shia mosques and Imam Bargahs under threat from takfiri al-Qaeda's terrorists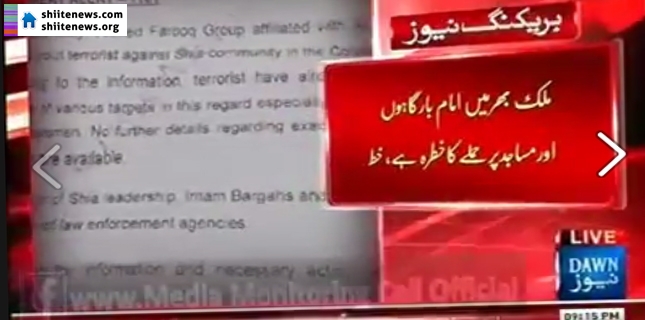 Shia Muslims, their mosques and Imam Bargahs are under threat from notorious takfiri nasbi terrorists of al-Qaeda's Ahmed Farooq group, says an alert issued as a report by the National Crisis Management Cell of Federal Interior Ministry that was also leaked to electronic media.
The Crisis Management Cell alerted the relevant officials of the government that Ahmed Farooq group of al-Qaeda was active and planned to assassinate Shia religious scholars, Shia politicians, Shia traders, and Shia professionals and Shia notables. Alongside, the takfiri nasbi terrorists of al-Qaeda also planned to hit Shia mosques and Imam Bargahs.
Talking to the Shiite News, Shia parties and leaders have demanded of the government to shoulder her responsibility by ensuring counterterrorism operations to crush terrorist networks and providing security to the "under-threat" people and buildings. They said that instead of denying the presence of notorious terrorists of DAESH (ISIL) in Pakistan, government should focus on elimination of all takfiris.