Pakistan
Karachi:Govt arrest the killers of 44 Ashura's martyrs. Fatima Najafi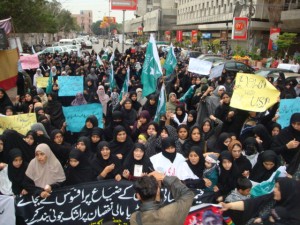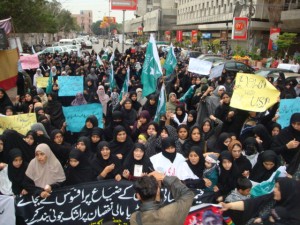 Shiitenews Correspondent:
 
Hundreds of Shiite women staged a protest on Saturday at Karachi Press Club to denounce the recent Ashur's blast occurred in the metropolis. Protesters, hoisting ISO flags and anti American placards, were chanting slogans against the USA and Taliban.
 
Addressing the protest Ms Fatima Najfi expressed her serious concerns over the vibration of some culprits, who are trying to put curtain on the conspiracy of setting some major markets on fire on account of reaction of the blast. She said, "Some invisible powers are hatching conspiracy against the Shiyan-e-Hyder-Karrar (Shiites). The innocent Shiite youth are being prisoned. However, some people are misleading the authorities concerned who are busy in interrogation of the blast."
She demended the government to release the photages of previous incidents, including 9 April, 12 May and 27 December.
She also demended the government to arrest killers of 44 martyrs immediately.
End.