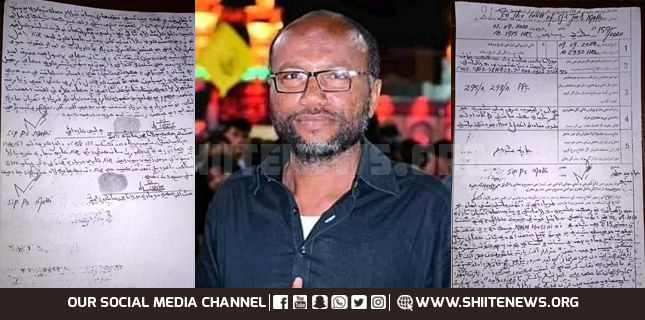 Biased police file false case against MWM leader Yaqoob Hussaini on dictation of violent extremist fanatic cleric Abdullah Arain alias Abdullah Sindhi.
In Matli, district Badin, police have become obedient servant of outlawed terrorist outfit Lashkar-e-Jhangvi, subsidiary of outlawed Deobandi terrorist outfit Anjuman Sipah Sahaba that now calls itself ASWJ- Ahle Sunnat wal Jamaat (Deobandi sect).
Biased police file false case against MWM leader
Majlis-e-Wahdat-e-Muslimeen (Body for Muslim Unity)'s Matli-based leader Yaqoob Hussaini had exposed the notorious terrorist outfit.
He defended Shia Muslims fundamental rights which Constitution of Pakistan also guarantee but biased DSP Matli Khalid Rustamani began victimizing him due to DSP's affiliation with outlawed LeJ-ASWJ (Sipah Sahaba) Deobandi terrorist outfit.
Molvi M Hashim son of Abdul Majeed Khan lodged case on false charges of contempt of Sahaba (the companions).
In Pakistan, Sunnis themselves accuse Deobandi and Wahhabis sects of blasphemy of Prophet Mohammad (PBUH) and his Ahle Bayt (PBUT).
But Saudi-funded Deobandi takfiri terrorists mislead Muslims on the issue of Sahaba.
Shia Muslims hold mourning congregations and processions to commemorate Imam Hussain-led Martyrs of Karbala and Deobandi takfiris object to this azadari (mourning).
In a bid to stop Shia Muslims from azadari, they always used dirty tactics. Deobandi sect also perpetrated countless terrorist attacks on Islamic saints' shrines, mosques and Imam Bargahs
Matli police booked Yaqoob Hussaini under section 295-A and 298-A which locals rejected as baseless.
Terrorism and extremism in Pakistan cannot end due to these reasons which are produced in this article.
On paper, Shia Muslim Mohammad Ali Jinnah is father of Pakistani nation and founder of Pakistan. But in practice, Saudi Wahhabi monarchy rules Pakistan.