Pakistan
Countrywide protest rallies, sits-in against Chilas Tragedy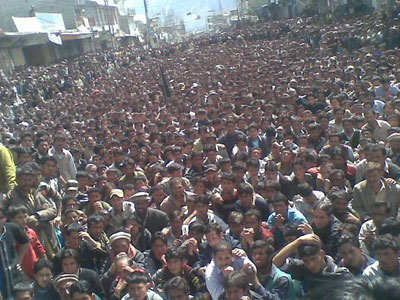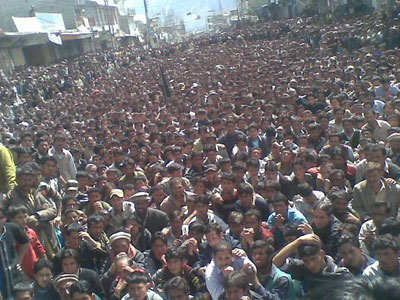 Rallies and sits-in were staged in all over Pakistan from Gilgit-Baltistan to Karachi to protest against Chilas Tragedy and genocide of Shia Muslims.

Like Baltistan, thousands of people thronged the Commissioner House in Gilgit to stage a sit-in. The displeased protestors expressed dismay over inaction against the terrorists who perpetrate terrorism. They raised slogans against Chief Minister and federal interior minister Rehman Malik.
Maulana Syed Ali Rizvi, Maulana Shaikh Hafiz Noori, Maulana Shaikh Mazahir Hussain, Maulana Shaikh Sajjad Hussain, Maulana Shaikh Zahid Zahidi spoke to the protestors.
They demanded that passengers should be provided an alternate route for safe travel from Skardu to Islamabad. They demanded that measures be adopted to keep airport and air service open in all seasons. They demanded that judicial inquiry into Chilas Tragedy be conducted. They demanded that terrorists involved in the massacre of 11 Shia Muslim passengers in Chilas be punished. They also demanded that Kargil Road must be opened at the earliest.
The sit-in ended after the administration accepted their all demands.
Another big protest rally was staged outside National Press Club in Islamabad under the auspices of Majlis-e-Wahdat-e-Muslimeen (MWM)'s Youth Affairs.
Speaking to the protestors, Allama Shaikh Aijaz Hussain Behishti said that Chilas Tragedy was in continuation of Kohistan Tragedy.
"Had the terrorists involved in Kohistan Tragedy been arrested, Chilas Tragedy would not have occurred," he asserted. Nisar Faizi, Allama Ghulam Askari and Allama Fakhar Alvi also spoke.
They said that Shia Muslims were being punished for the fact that they are peaceful and they remain peaceful.
They said that Shia Muslims shouldered the coffins of 16 martyrs of Kohistan Tragedy but remain peaceful and cooperated with the government and the administration. They said Pakistani Shia Muslims proved that they are peaceful.
However, they pointed out that the opponents of Shia Muslims don't love peace and they proved it during a strike that was called for release of a terrorist and during that strike peace of Gilgit-Baltistan province was sabotaged.
Youth of Gilgit-Baltistan hosted a demonstration outside Lahore Press Club to express their protest against the murder of 11 people in Chilas who were alighted out of buses and lined up for killings.
They said that peace of Gilgit Baltistan was being destroyed at the behest of the U.S. and its allies in a bid to give tough time to China.
They criticized federal interior minister for inaction against the terrorists. They said that if peace of Gilgit-Baltistan would be destroyed, peace of whole Pakistan would be sabotaged.
Similar viewpoints were expressed by Agha Hamid Ali Shah Moosavi who said in a statement that the terrorism in the province was aimed at souring relations with friendly countries.
The TNFJ chief Mr. Moosavi said that enemies of Pakistan want to isolate Pakistan by straining its relations with Iran, China and Afghanistan.
A sit-in was also staged at Numaish chowrangi Karachi where speakers lashed out at government's inaction against the terrorists.
A demonstration was staged outside Karachi Press Club under the aegis of Majlis-e-Wahdat-e-Muslimeen. Speakers condemned the ruling coalition for resorting to violence in the society for vested interests but lacking action against the anti-Shia terrorists.