Pakistan
Shia Youths bravely continues azadari procession despite takfiri-police attacks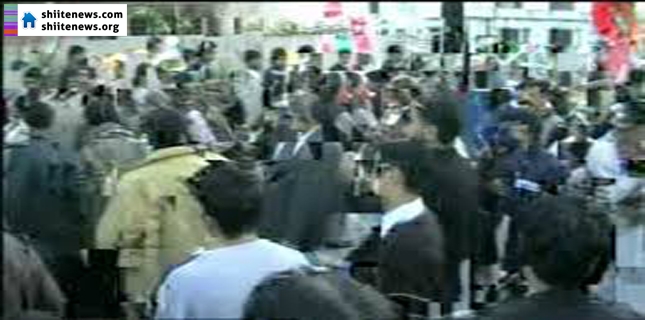 Shia youths of Islamabad defeated the takfiri terrorists of banned ASWJ (Sipah-e-Sahaba) and pro-takfiri biased police cops by continuing azadari (mourning procession) in sector G-10 of the capital of Pakistan.
Beating their chest, the azadars (mourners of Imam Hussain-AS) were chanting the slogans of Ya Hussain (AS). They were peacefully on their way to conclude the mourning procession or Juloos-e-Aza (also matami juloos). Takfiri fanatics of proscribed ASWJ (Sipah-e-Sahaba and Lashkar-e-Jhangvi) began pelting stones at the peaceful Shia Muslims despite the heavy police force deployed there in the name of security for the procession.
To the dismay and surprise of the Shiites, police too joined the takfiris and began tear gas shelling instead of dispersing the takfiri terrorists of banned LeJ/ASWJ, let alone arresting them.
However, Shia youths continued their peaceful mourning procession to commemorate the Martyrs of Karbala and culminated it peacefully.