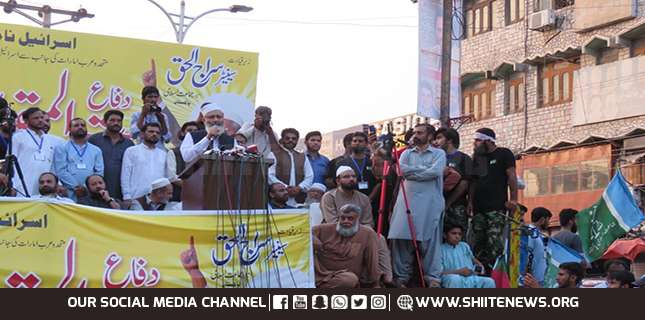 JI supporters rally condemns UAE for normalization of ties with Israel.
The Jamaat-e-Islami took out a rally, while other Pakistanis also held demonstrations in various cities of the country.
JI supporters rally condemns UAE
The party observed the day as 'Palestine Day' to express solidarity and to support the Palestinians' resistance against Zionist occupation.
Moreover, they also condemned United Arab Emirates' decision to normalize relations with the Zionist regime.
Jamaat-e-Islami Pakistan also organized rallies across Punjab, Sindh and Khyber Pakhtunkhwa provinces.
Big protest demonstrations held in Rawalpindi, Lahore and Karachi.
During the rallies, protesters expressed support to the brave Palestinian people and strongly condemned the UAE-Zionist deal.
They were carrying banners, and placards with slogans such as "Down with Israel," "UAE-Israel deal is unacceptable".
Moreover, they voiced strong support for Palestine and the liberation of Jerusalem, adding that compromise with the occupiers is a great betrayal against Palestine and the Islamic world.
Senator Sirajul Haq, chief of the Jamaat-e-Islami, called on Pakistan government to use its diplomatic capabilities to press the UAE to abandon its decision to normalize relations with the Zionist regime.
Referring to the anti-Israeli stance of Mohammad Ali Jinnah, the late founder of Pakistan, he said: The people and government of Pakistan consider Israel a usurper and illegal regime, so we will never give up our moral, political and humanitarian support for the Palestinian people.
Jamaat-e-Islami supporters also marched in Lahore and Karachi, calling on the Islamic world to stand up for the rights of the oppressed Palestinian people.