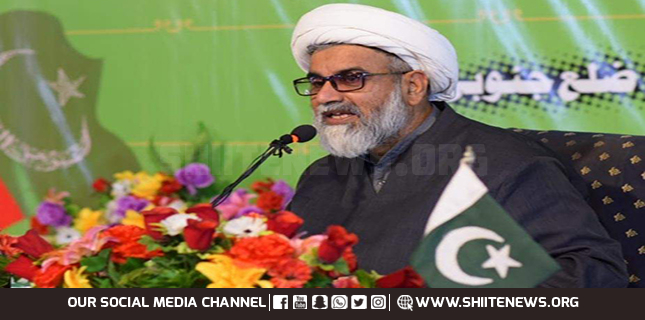 Allama Raja Nasir condemns UAE for betraying Arab and Muslim Ummah after United Arab Emirates announced normalization of relations with Israel.
Majlis-e-Wahdat-e-Muslimeen (MWM) Pakistan secretary general reminded the hypocrites of he fact that 220 million Pakistanis rejected Zionist racist ideology.
Allama Raja Nasir condemns UAE for betraying Arab and Muslim
He was referring to the illegitimacy of Israeli state founded on racist political Zionism.
Allama Raja Nasir Abbas Jafari also asked PEMRA to keep an eye on those trying to influence people in favour of Israel.
He said some so-called liberal media persons and intellectuals and clerics on Saudi payroll eye eagerly for Pakistan-Israel relations.
But he made it clear that founder of Pakistan Mohammad Ali Jinnah had rejected the idea of Jewish state on Arab majority Palestine.
The MWM leader said that Pakistani nation would never do anything that tarnish its image and prestige.
He said that Pakistan would never do anything that spoils legitimate struggle of oppressed Palestinians for their inalienable rights.
Furthermore, he said, those who recognize Israel have ditched Islamic Ummah and Arabs, while the latter call them traitors.
U.S. President Donald Trump had announced UAE-Israel normalization in Washington D.C. and he unveiled tripartite joint state.
Crown Prince o Abu Dhabi Mohammad Bin Zayed and Israeli Prime Minister Benjamin Netanyahu and Trump issued that joint statement on August 13, 2020.