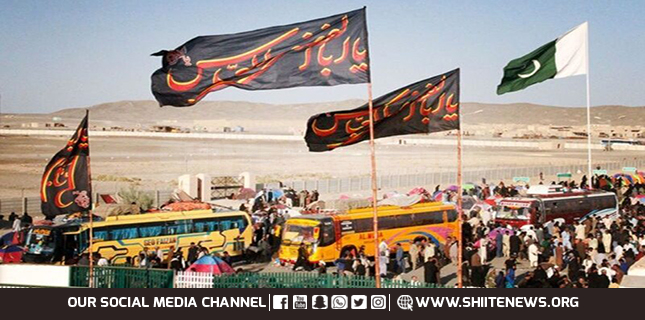 MWM begins preparing case against Ziarat Policy of the Government while taking Shia Zaireen group leaders on board.
In this regard, Majlis-e-Wahdat-e-Muslimeen (MWM) political affairs secretary Syed Asad Abbas Naqvi held meetings with Zaireen group leaders (Qafla Salar).
MWM begins preparing case
They discussed the federal government's discriminatory Ziarart Policy. They decided to send their objections to the objectionable discriminatory restrictions on the pilgrimage of sacred shrines to the ministry of religious affairs.
However, an official of the MWM has clarified that the ministry had presented a proposed draft of the policy and not a notification in this regard.
As a matter of fact, they turn down that proposed draft.
They expressed hope that the government would not impose unfair and discriminatory restrictions on the pilgrimage.
Shiite News earlier reported that the government announces anti Shia Zaireen policy on Saudi dictation which Shia Muslims of Pakistan turned down as discriminatory.
The entire nation witness Pakistan government's toeing Saudi line despite Saudi monarchy's awarding the highest King Abdul Aziz Saudi national award to Indian Prime Minister Narendra Modi.
Pakistan government has announced highly unfair Ziarat (Pilgrimage) policy for pilgrimage of sacred shrines in Iran, Iraq and Syria.
Why Shia opposes govt policy
Factually speaking, any Pakistani can go to any country without any additional restriction or requirement. A Pakistani need a legally valid visa on his passport to leave Pakistan for abroad, at will while government of Pakistan has no discriminatory restriction on any Pakistani.
But the government now requires Pakistani citizens to meet their additional requirements to go to pilgrimage of sacred shrines in Iran, Iraq or Syria.
As per requirements, a single Pakistani cannot go to pilgrimage to these countries. The government will authorize some tour operators to form Zaireen groups for pilgrimage. That means nobody else can do so and this condition also remains specific to aforesaid pilgrimage.
Government has put a condition for each of aforesaid pilgrims to have an additional amount of $ 500 during such pilgrimage tour. Financially poor people save their money for such pilgrimage and they travel by road. And their total pilgrimage cost of Iran or Iraq amounts $ 500.
Majority of Zaireen comprises of such financially poor people but government policy, it seems, aims to discourage these pilgrims from pilgrimage.
Government also banned pilgrimage of disabled people although relatives take such disabled people to pilgrimage for spiritual healing.
These are some examples of selective, unfair and discriminatory restrictions or requirements which has triggered instant reaction from Shia pilgrims.