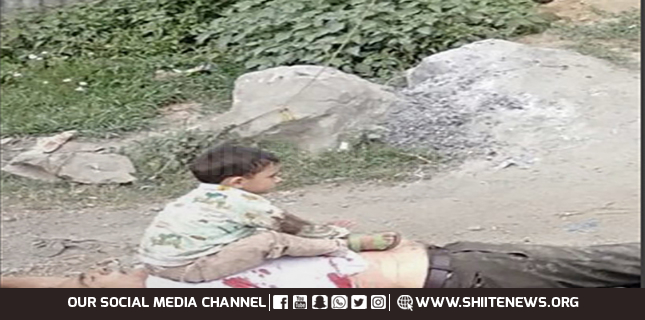 Photo of Kashmiri child on the body of martyred grandfather exposes Indian crimes against humanity in occupied Kashmir (IOJK).
Notably, Pakistan mourned as the image went viral on the social media. The pictures showed martyred Kashmiri grandfather lying on the ground drenched in blood while his 3-year-old grandson sitting on his dead body and walking around the Indian police personnel.
Photo of Kashmiri child
Trigger-happy Indian troops assassinated the 65-year-old civilian Bashir Ahmed Khan in Sopore district of the Indian Occupied Jammu and Kashmir (IOJ&K).
Indian troops perpetrated this crime during the relentless ongoing onslaught to target the innocent civilians.
Indian occupation forces and Indian media as usual instantly blamed the Kashmiri fighters for the tragic incident.
The incident reminded the heartless killing of 12-year-old Palestinian child Muhammad al Durra in September 2000, whose father Jamal al Durra also took several bullets in order to shield him from the Israeli gunfire.
As shared on social media on Wednesday, a member of the deceased person's family was seen narrating the tragic incident.
He said the incident took place early in the morning around 6:30 am when the Indian forces dragged their elder out of a vehicle and killed him mercilessly.
Former puppet chief minister of IOJ&K Omar Abdullah slammed all the reports and tweets of pro-Indian media outlets for fake news.