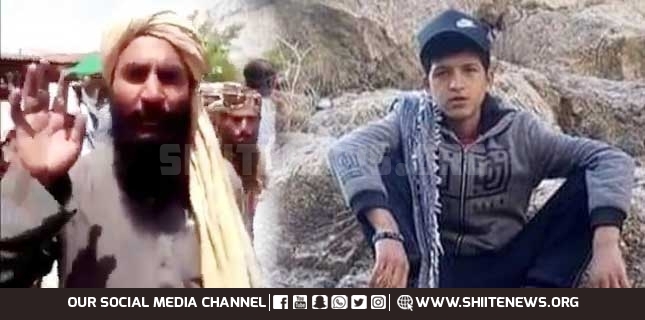 Orphan Hazara Shia boy martyred in targeted terrorist attack in Quetta.
The terrorists belonging to Lashkar-e-Jhangvi (LeJ) Kakar group/Sipah Sahaba (ASWJ) perpetrated this crime at Koh-e-Imam Reza in Marriabad.
Orphan Hazara Shia boy martyred
The 17-year-old orphan boy Ismail embraced martyrdom due to firing of aforesaid terrorists.
Sectarian hatemongering fanatics have relaunched a malicious campaign against Shia Muslims in Pakistan while they particularly target Hazara Shia in Quetta.
One person lost life in a personal dispute with a Hazara in Quetta Hazara Town but outlawed terrorist group began misleading people on that personal dispute.
They are trying to incite people to attacks while the government and security agencies stay silent with no action to rein in those fanatics.
On the other hand, FC personnel fire upon car of former Law Minister Balochistan Agha Raza in Quetta at Western Bypass.
However, he luckily escaped unhurt.
Syed Agha Mohammad Raza had gone to see the protesters at Western Bypass in Quetta.
Hazara Shia Muslims are protesting against the latest wave of attacks or sort of pogrom against them in Quetta that resurfaced once again.
Fanatics also assaulted a Shia Hazara traffic police cop but higher authorities took no action.
Outlawed Lashkar-e-Jhangvi (ASWJ/Sipah Sahaba) massacred hundreds Shia Hazara Pakistanis but their ringleaders such as Ramzan Mengal remain free.
Now, the security agencies have taken no action to protect Shia Hazara against attacks from takfiri zealots.
A video clip of takfiri zealots has gone viral on social media in which one cleric made hate speech. The takfiri can be seen inciting people to pogrom against Shia Muslims.
It seems US-Saudi plot to use their clients in Pakistan like they did in 1980s to bog Pakistan down into quagmire of takfiri terrorism.
Since 1980s recruitment, funding and facilitating Deobandi takfiris for terror attacks during their proxy war in Afghanistan against supporters of ex-USSR, Western powers and Saudi monarchy continue to play this dirty game around the world, including Pakistan.