Pakistan
A Shia baby martyred, 8 Shiites injured in blast outside Imam Bargah in Karachi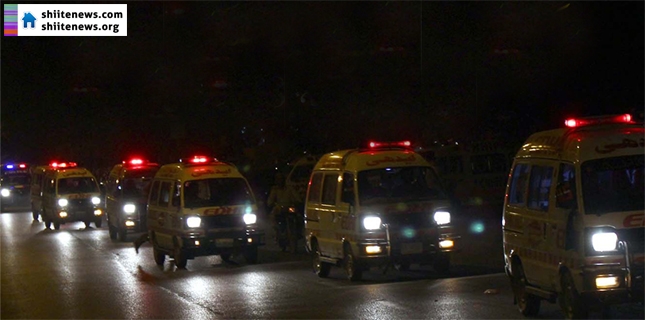 A minor Shia Muslim baby embraced martyrdom and nine people, mostly women, have been injured in a blast perpetrated by takfiri nasbi terrorists of banned Sipah-e-Sahaba (ASWJ) near an Imam Bargah in Karachi on Tuesday night.
AIG Karachi Police Ghulam Qadir Thaibu said terrorists riding motorcycles threw a cracker near Islamic Research Center near Ayesha Manzil Bus Stop and fled the scene.
The cracker was lobbed near the entry-exit point of the Imam Bargah situated in the premises of Islamic Research Centre when azadar of Imam Hussain (AS) were leaving the Imam Bargah at the end of majlis.
The injured were rushed to the hospital for treatment. A 9 month old baby namely Kiran Fatima alias Batool breathed her last at a private hospital. Some of the injured were identified as Waqar Abbas son of Wafa Abbas, Ali Hassan, Zahra, Faiza and Sana Zaidi.
The blast angered Shia Muslims who complained that the blast occurred due to lack of security by the police and rangers near the Imam Bargah and on the road bridge in front of the Imam Bargah.
Shia parties and leaders condemned the blast that police and rangers considered either cracker or hand grenade. They said that eminent Shia leader Allama Hassan Zafar Naqvi was addressing the majlis-e-aza at the Imam Bargah and the terrorist attack was a veiled threat to Shia leader hence security officials need to make fool proof security arrangements to avoid such attacks at any place in future.