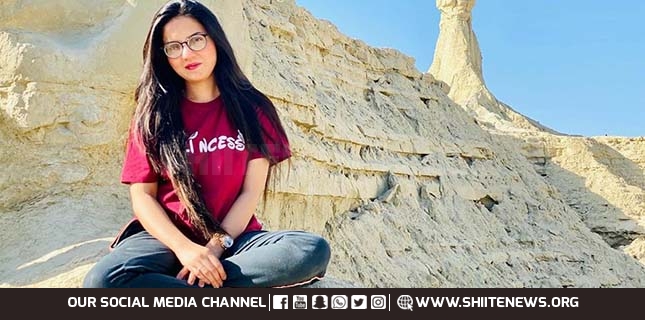 Sectarian hatemongering TV anchor Kiran Naz link with terror outfit seminary confirmed.
The outlawed Sipah-e-Sahaba terror group which now renamed itself As ASWJ has confirmed Bol TV anchor Kiran Naz's links with their seminary.
Sectarian hatemongering TV anchor Kiran Naz
In a tweet, the mother of all terrorism Sipah Sahaba owned Kiran Naz. It said Kiran Naz had remained pupil of a takfiri seminary.
That proved that Kiran Naz deliberately created controversy during Ramazan transmission and sought to serve outlawed Sipah Sahaba agenda of hatred and division.
Ironically, the intolerant terror outfit ASWJ, the mother wing Lashkar-e-Jhangvi has planted such models who don't apply Islamic shariah upon themselves.
Earlier, link of model Rabi Pirzada, notorious for vulgarity and obscenity with takfiris proved.
Now similar model Kiran Naz has come to fore. Hence, people must stay alert that banned terror outfit's people have infiltrated at such forums where they must not have any sort of presence.
Mostly, Pakistanis expressed their dismay and vented anger over so-called Ramazan transmission of Bol TV channel of Bol Network.
Social media users also largely made #BolPromotingSectarianism top trending on Twitter in Pakistan.
hey demand government immediately ban the Bol Network because of violation of the country's law and Islamic law as well.
Earlier, Maula Ali se nafrat kyoon or Why Hatred Against Maula Ali became top trend on social media.

The Urdu hashtag Maula Ali se nafrat kyoon remained the top trend on Twitter.com in Pakistan.
Social media users expressed their love and respect for Hazrat Ali, the Imam and the ruler of Islamic government.
For some days, takfiris and nasbis tried their level best to mislead people through malicious propaganda.
Although they themselves hold gatherings violating social distance and general public also gather at markets and bazaars for shopping, the takfiris and nasbis campaigned against Youm-e-Ali, the martyrdom anniversary of Maula Ali (AS).
While reacting to the hate mongering takfiris and nasbis propaganda, people introduced the trend on social media asking why hatred against Maula Ali (AS).
Again, nasbis and takfiris tried to mislead people by another trending on Maula Ali.
This time, they had to use the term Maula Ali; otherwise they had never used this term. They had been opposing the term Maula Ali in the past.
On the one hand, the Urdu hashtag Maula Ali se nafrat kyoon emerged as top trending on Twitter.
And on the other hand, nasbis and takfiris had to use the term Maula for Hazrat Ali.
It was humiliating defeat of the nasbis and takfiris.