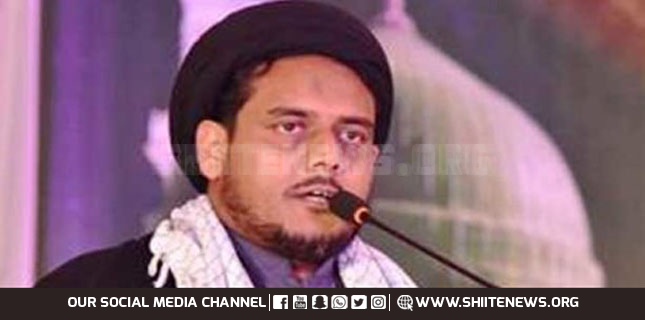 MWM leader sees link between Palestine and Kashmir issues as he expressed these views during his speech in Multan.
Tehreek-e-Azadi Al Quds has set up a camp at Chowk Ghanta Ghar to create awareness about Palestine issue ahead of International Quds Day.
MWM leader sees link
Majlis-e-Wahdat-e-Muslimeen leader Allama Iqtidar Naqvi and Imamia Students Organisation (ISO) also spend time at the camp.
The organizers also displayed the portraits of oppressed Palestinian children at the camp.
While speaking on the occasion, Allama Syed Iqtidar said the issue of Palestine and Kashmir are interlinked.
He said Israel wants to usurp the entire Palestine, including al Quds (occupied Jerusalem) through deal of the century which US President unveiled late in January 2020.
However, he alerted that Palestine issue might trigger war in Middle East while Kashmir issue might engender war in South Asia.
Hence, he urged Muslim regimes to come forward to foil these plots of enemies.
MWM leader said Trump-Netanyahu alliance want to enslave Palestinians.
Meanwhile, MWM Faisalabad district chapter secretary general Allama Zakir Naqvi also spoke on Quds Day plan.
While addressing a press conference in Faisalabad, he cited pioneers of Pakistan also supported Palestine and Palestinians.
He said that support for Palestinians and Kashmiris also amounts to renewal of the actual policy of founder of Pakistan Mohammad Ali Jinnah.
Earlier, Allama Raja Nasir announced observance of Quds Day on Friday May 22 to express solidarity with oppressed Palestinians.
While addressing a press conference at MWM's central secretariat, he also said they would also mark solidarity with oppressed Kashmiris on Youm-ul-Quds.
Originally, Imam Khomeini had called for observance of International Quds Day to highlight the issue of occupied Palestine worldwide.
Since then, people began observing Youm-ul-Quds across the world.
Majlis-e-Wahdat-e-Muslimeen Pakistan secretary general Allama Raja Nasir Abbas Jafari also lamented the silence of Muslim regimes.
Youm-ul-Quds to be observed following the precautionary measures