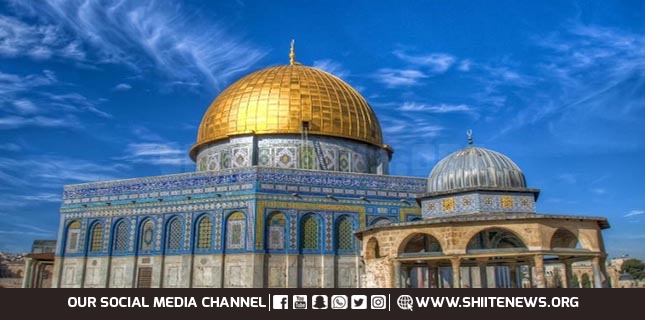 Pakistanis all set to observe International Quds Day today to express solidarity with oppressed Palestinians and particularly of occupied Jerusalem.
In this regard, Majlis-e-Wahdat-e-Muslimeen, Tehreek Azadi Quds, Shia Ulema Council and Imamia Students Organisation have announced events.
Pakistanis all set to observe International Quds Day
Milli Yakjehti Council, JSO, ASO, AIAT and other Shia and Sunni organistations also have made similar announcements.
Earlier, MWM have held al Quds Conference in many cities. ASO held online conferences.
Similarly, ISO Pakistan also held virtual conferences to highlight the issue of Palestine.
Notably, Palestine Foundation (PLF) Pakistan leaders also addressed press conferences.
Jafaria Alliance leader Allama Razi Jafar Naqvi called for unity of Islamic Ummah on Quds Day.
However, they have made clear that they would ensure social distancing and observe the SOPs on International Quds Day.
Muslims also observe the last Friday of the holy month of Ramzan as Jumma-tul-Wida with special prayers besides Friday prayers, worshippers too have to ensure implementation of SOPs.
Palestine had fallen to occupation in 1948 when Israel came into being on their land.
Israel also occupied West Jerusalem in 1948 while it occupied East Jerusalem in 1967.
Despite illegality, Israel continues to occupy the Holy Land of al Quds (Jerusalem) but United Nations Security Council failed liberate al Quds.