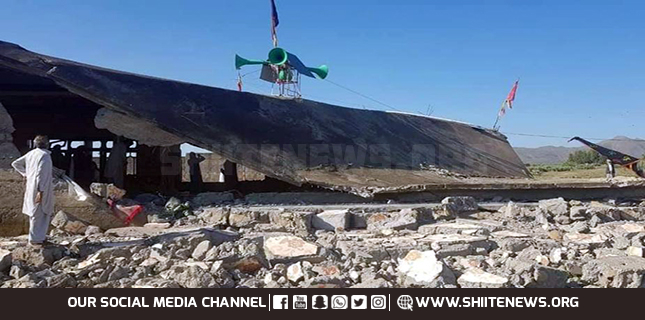 Parachinar Police book Shia leaders for protest against terror attack in which the terrorists damaged Shia Islamic mosque in Shor Koh, Lower Kurrum.
Protests held under the aegis of Sada-e-Mazloomeen Parachinar.
Parachinar Police book Shia leaders
Police registered case against Molana Muzammil Hussain, Shabbir Sajidi, Shafiq Turi, Hashmat Turi and Mujahid Turi.
Meanwhile, MWM KP chapter's deputy secretary general Allama Janazeb Jafari has condemned the baseless case.
He termed it a biased case and it shows dictatorial mindset because a democratic society allows protest against terrorism but dictatorial mindset don't.
Allama Jahanzeb also termed the case against Shia leaders as victimization but he made clear that they cannot gag the voice of truth.
Furthermore, he reminded Kurrum district's administration that their negligence resulted in blast in Shia mosque at Shor Koh near Pakistan's border with Afghanistan.
He said that the administration want to hide their delinquency and failure against terrorists through an unjustifiable case against Shia leaders of Sada-e-Mazloomeen organisation.
MWM leader demanded withdrawal of case immediately; otherwise, he said Shia Muslims would not remain silent.
He said they would initiate legal proceedings against the delinquent officials of Kurrum.
on May 5, 2020, the moazzin of Shia mosque on Pak Afghan border embraced martyrdom in the blast which also damaged mosque building.
People believe Daesh takfiri terrorists might have perpetrated this anti-Islam and anti-humanity heinous crime because they have presence in the area.