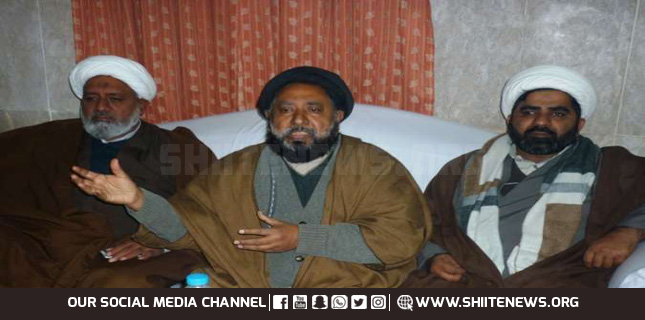 Allama Qazi Niaz condemns India for changing demography in IOJK (Occupied Jammu and Kashmir).
Senior Shia Islamic scholar urged Muslim regimes around the world to take notice of Indian measures which he said aimed at converting Muslims into minority.
He opposed biased and discriminatory illegal measures which India took in disputed territory of Kashmir.
Allama Qazi Niaz condemns India
He also expressed concern over changes in the law regarding domicile in IOJK. He lamented sell of Kashmiris properties to Hindus of India under compulsion.
Allama Qazi Niaz Hussain Naqvi noted India following Israel and maltreating Kashmiris like Israel do with Palestinians in their own land.
He said that Islamic laws and traditions turn down organized campaign which turn Muslims into minority. Hence, he demanded end to this plot.
He urged Kashmiris to foil the plot that aimed at bringing Hindus for permanent settlement into their neighbourhood or land of disputed Kashmir.
Veteran scholar said that through 5th August 2019 IOJK specific measures, BJP-led biased Indian government had sought to turn Kashmiris into minority in their ancestral land.
Earlier, Khanum Zehra Naqvi condemned India for arresting female Kashmiri journalist Masarrat Zahra.
Majlis-e-Wahdat-e-Muslimeen women wing secretary general Syeda Zehra Naqvi cited India had booked her as a facebook user.