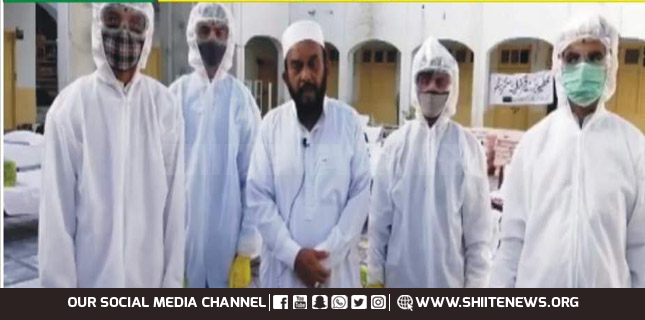 Shia Islamic seminary in Hangu made quarantine centre amid Coronavirus threat.
Jamia Askaria Hangu offered itself as quarantine centre due to lack of this facility in Hangu.
The patron Allama Khursheed Anwar Javadi said they made Shia Islamic seminary quarantine centre because of lack of this very facility.
Jamia Askaria is serving humanity in collaboration with Hussaini Foundation.
Shia Islamic seminary in Hangu
He cited Hangu had only one government district hospital and that too lack facilities to deal with Coronavirus (Covid-19) infection.
Therefore, Shia Islamic seminary Jamia Askaria made it quarantine centre.
It allocated its building while Hussaini Foundation arranged 50 beds, needed equipment and trained volunteers.
Allama Khursheed Anwar Javadi further said that the trained volunteers are capable to final ablution and burial if someone dies of COVID-19.
Specially, Muslims follow Islamic code for last rites of deceased which include final ablution, funeral prayers and burial as per Islamic tradition.
However, health officials have issued a code for funeral and burial of deceased of Coronavirus; therefore, only highly trained Islamic volunteers can shoulder this responsibility while following both procedures.
Meanwhile, Shia Islamic seminary Jamia Askaria Hangu is also distributing essential food items and medicines among deserving people.
Shia Islamic scholar Allama Khursheed Anwar Javadi-led seminary set a precedent for all to follow.
Ironically, sectarian hatemongering takfiris always tried to mislead people through anti-Shia malicious hate materials. Such takfiri miscreants also incited people against Shia Muslims and also attacked them but Shia Islamic seminary is that same are is serving humanity without any discrimination of sect, religion or race.
IG Sindh refuses to make arrangements for 21st Ramazan congregations
Four terrorists of AlQaeda subcontinent arrested in Karachi during a raid