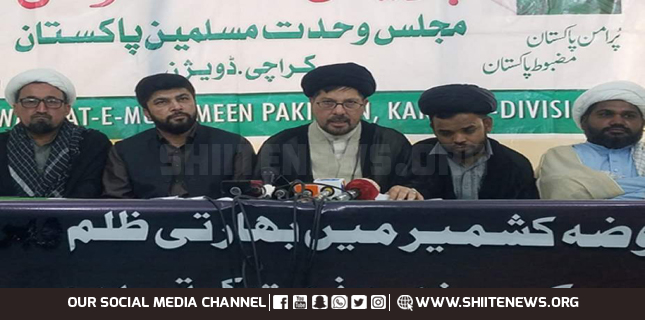 Allama Baqir asks Shia Muslims to suspend congregational prayers as per religious authority's decree.
Majlis-e-Wahdat-e-Muslimeen Sindh chapter secretary general Allama Baqir Abbas Zaidi appealed to Shia Muslims to follow the decree of religious authority/ jurisprudents.
According to him, Shia Islamic jurisprudents have urged their followers to suspend congregations, including Friday prayers due to Coronavirus pandemic.
Allama Baqir asks Shia Muslims
The MWM leader warned that of the threat which Coronavirus pandemic pose also to Pakistan.
In view of that, he urged all should observe precaution; otherwise, Coronavirus pandemic may cause irreparable losses.
Allama Baqir said that the government cannot implement the precautionary measures without citizens' cooperation.
Hence, he emphasised people ought to shoulder their responsibility, individually as well.
While referring to religious authority's guideline, he asked Shia Muslims to act upon Shia Islamic jurisprudents directive.
Meanwhile, he cited MWM is cooperating with the government to prevent spread of Coronavirus.
He said the offices of MWM district chapters and newly established al Majlis Disaster Management Cell volunteers are serving humanity.
Allama Baqir said they are providing food items to the needy people.
He lauded the Zaireen (pilgrims) for spending long time at quarantine centres because they set precedent how to sacrifice for the sake of 220 compatriots.
He said that the entire country should follow Zaireen regarding quarantine. He also appreciated volunteers for serving them altruistically.
MWM remains in forefront to play active role in preventing Coronavirus spread in Pakistan, he said.