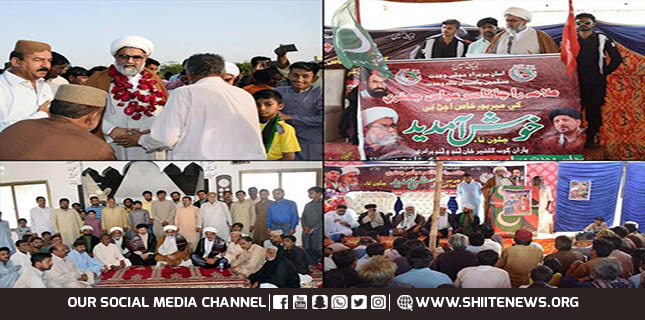 Allama Raja Nasir visits Mirpurkhas, Thar and Umerkot where he also addressed Jashn-e-Maulood-e-Kaaba.
Majlis-e-Wahdat-e-Muslimeen Pakistan secretary general held meetings with local officials and members of his party.
During his 4-day rural Sindh organizational tour, he also visited Goth Gulsher Khan Mirpurkhas Sugar Mill and Goth Sanjar Khan Banglani.
Allama Raja Nasir visits Mirpurkhas
Notables of the area also called on Allama Raja Nasir Abbas Jafari.
The MWM SG met people in Panj Pir and shared his views on current issues.
He visited the house of Umerkot Press Club Imran Shah and offered fateha for departed soul of his mother.
He also visited the Imam Hasan Askari charity clinic in Chachro city which MWM's charity body Khairul Amal Welfare and Development Trust is running.
Allama Raja Nasir spoke to people at Imam Bargah Hyderi Chachro.
He spoke at Jashn-e-Maulood Kaaba at Sanjar Khan Banglani on birth anniversary of Imam Ali.
Allama Mukhtar Imami, Allama Baqir Abbas Zaidi, Naqi Haideri, Arshadullah Maktabi, Yaqub Hussaini, Nadeem Jafari and others also accompanied him.
Locals of the areas and especially notables accorded warm welcome to the visiting MWM secretary general.