Pakistan
MWM Karachi rally against 18 Shia pilgrim killings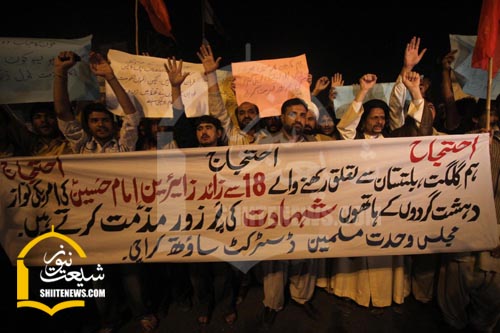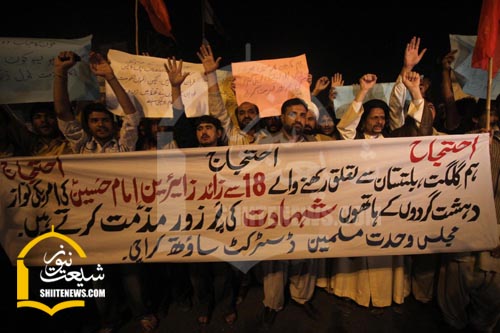 MWM Karachi rally against 18 Shia pilgrim killings, Allama Raja Nasir terms US and its agent involve in the killings
KARACHI- Majlis-e-Wahdat-e-Muslimeen (MWM) Central secretary general Allama Raja Nasir Abbas Jaffari on Tuesday said that United States, Zionist Israel and their ally India are involved in Gilgit Baltistan and Parachinar tragedies adding that this axis wants to destabilize Pakistan internally.
He expressed these views while addressing a matami rally organized by MWM Karachi division at MA Jinnah Road to protest the genocide of Shia Muslims. Hundreds of enraged activists were participated in the protest rally condemning the government and US.
MWM's secretary general Allama Raja Nasir Abbas Jafri, Karachi chapter's secretary general Mohammad Mehdi, Maulana Munawar Naqvi, Maulana Ali Anwar Jafri, Maulana Jaffar Subhani, Ali Osat and other office bearers spoke at the rally.
The participants were mourning beating their chest and chanting the slogans against United States, Government and Security agencies. The rally was started from Masjid-e-Shah-e-Khorasan and culminated at Masjid and Imam Bargah Ali Raza (A.S.).
They asked the government to break off all sorts of relations with United States forthwith.
Allama Raja Nasir Abbas said that government has failed to enforce its writ in many areas including Gilgit-Baltistan that was evident from Tuesday terrorism in which terrorists massacred 18 Shia Muslims on their return from pilgrimage.
He vowed that Shia Muslims would foil the conspiracies of common enemies of Pakistan and its Shia Muslim citizens.
He said that banned terrorist outfits as agents of the axis of devil that he identified as mainly U.S. and Israel and India. He demanded of government to rein in those terrorist outfits and its leaders and members.
He said that attack on and martyrdoms of innocent Shia Muslims were condemnable acts of terrorism and an intolerable one. The participants responded to his call vowing that enemies' conspiracies are doomed to failure.
End.