Pakistan
9 takfiri Taliban arrested in Islamabad for planning to hit intelligence officers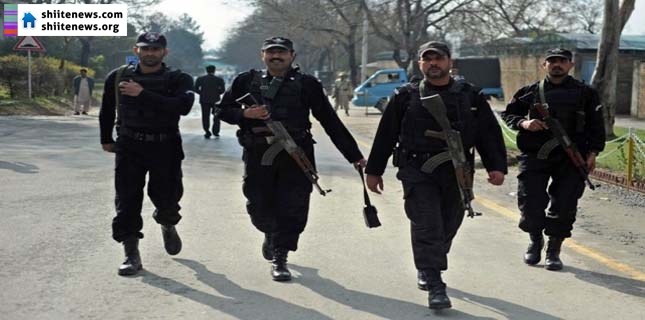 Security forces have arrested 9 Yazidi takfiri nasbi terrorists of banned Tehreek-i-Taliban Pakistan (TTP) during a raid at a local Deobandi seminary. They were carrying out reconnaissance of senior army officers with a view to targeting them.
"Those senior officers of armed forces who are involved in Operation Zarb-i-Azb and intelligence operations against terrorists, including the head of the intelligence agency, were their targets," sources in law-enforcement agencies said.
The men had been hiding out in a Deobandi seminary, located in the I&T Centre in Sector G-10/4, for a couple of weeks. Sources said the men would disguise themselves as street vendors and freely move about the city and conduct surveillance on their targets.
Sources said the raid was carried out on a tip-off regarding the presence of a 14-member group allied with the TTP-Kunar, adding that nearly all the arrested men were from Swat and Bajaur Agency. In the raid, conducted in the early hours, at least 40 people were rounded up, but after identification, police released 31 of those earlier taken into custody.
Intelligence operatives are in the crosshairs of terrorists since intelligence operations across the country have led to the arrests of 114 suspects. In over 2,000 operations, 42 hardcore terrorists and 17 security personnel are said to have been killed.
In early July, the country's intelligence agencies trained officers of capital police and established intelligence units in all 18 police stations in the city. The units worked in coordination with police, Rangers and security forces personnel and conducted surgical operations. During a raid in Sihala on July 17, four affiliated with the TTP-North Waziristan were arrested.
Special Branch personnel within Islamabad and Rawalpindi police told the authorities that religious seminaries might be supporting certain terrorists by providing them refuge so they could avenge the losses they incurred during the ongoing military operation in North Waziristan.
An intelligence report prepared by the Special Branch asserts that "TTP is not alone in conducting terrorism in the twin cities. It receives full support from like-minded seminaries of the Deoband school of thought."
The report identifies over 20 Deobandi seminaries in the greater Rawalpindi region that are suspected of harbouring terrorists.