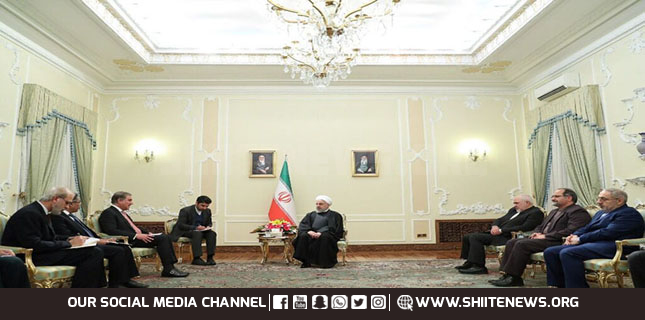 Iran welcomes Pakistan peace diplomacy but Saudi Arabia says nothing.
During Pakistan Foreign Minister's visits to Tehran and Riyadh, different response came.
Iran welcomes Pakistan peace diplomacy
Iran President Dr Hassan Rouhani welcomed Pakistan efforts to promote peace, stability in region.
He said that since Iran believes dispute among Muslim states will not benefit anyone, Tehran welcomes Islamabad's efforts to boost peace and stability in the region.
Foreign Ministe Shah Mahmood Qureshi reaffirmed that Pakistan remain committed to play an active and positive role for bringing peace in the region.
However, Rouhani further said that that under the current situation, all should work for regional peace and stability and cooperate to ease tensions in the region.
He also reiterated that that outbreak of war and conflict in the region will be very dangerous. Besides, he expressed Islamic Republic's preparedness to defend its interests. But he added that Iran never seeks to fan the flames of war in the region.
Moreover, he evinced Iran keen interest to have close and friendly relations with all regional states.
He termed the Iran strike on US bases in Iraq a response to US criminal act.
Rouhani further noted that today, all should believe that dialogue and close cooperation among the nations are in the interest of the regional Muslim governments and peoples.
Furthermore, he warned that would incur loss if they disagree and continue conflict.
Saudi response?
Although Pakistan make tall claimes of Saudi support, it remains an empty unilateral claim.
Saudis always dictated Pakistan and used Pakistan against Iran for the interests of pro-Israel US.
Unfortunately, Saudi Arabia has not honoured Pakistan nor acknowledged Pakistan's sincere efforts.
Saudi FM Prince Farhan had made no positive gesture during meeting with Pakistani counterpart.
However, Shah Mehmood's Tehran visit remained successful. He called for deescalation of regional tensions with Iranian FM Javad Zarif during his visit to Tehran.
Qureshi visited Iran yesterday following the Prime Minister's directive for peace diplomacy.
However, his meetings with Iran govermment top officials held late Sunday night according to Iran local time.
Furthermore, Qureshi and his Iranian counterpart reviewed bilateral ties.