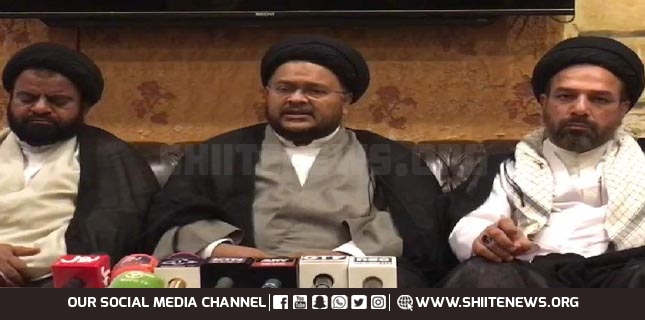 Shia Ulema Council protest day for Qassem Soleimani on 10th January to be held to condemn US illegal airstrikes.
The SUC Sindh chapter president made this announcement while addresing a press conference at Sukkur Press Club.
Shia Ulema Council protest day
Allama Nazir Taqvi further said that assassinations of legitimate state actor in unlawful airstrikes made it clear that US poses serious threat to Islamic world.
Moreover, he said Muslims must unite against common enemies and illegitimate role of US.
Furthermore, he said United States attacked sovereignty of Iraq in violation of UN charter.
Apart from protest outside US diplomatic missions, Pakistanis held joint and separate rallies across the country.
Asgharia IlmOAmal Tehreek Nawabshah chapter organised the protest.
The AIAT leaders Syed Alamdar Abbas Naqvi, Maulana Nisar Naqvi, Asgharia Students (ASO) leader Atif Mehdi led the rally.
The JSQM leader Munawar Umrani also accompanied them to express solidarity.
Asgharia AIAT rally for
They condemned the illegal US airstrikes that assasinated Haj Qassem of Iran and Abu Mahdi Mohandis of Iraq.
Furthermore, they urged Pakistan government to raise voice against US, Israel, India and Saudi Arabia.
Meanwhile, they said enemies of Muslims and humanity joined hands against oppressed people of Palestine and Middle East.
Haj Qassem and Mohandis Abu Mahdi
Iraq Government had officially requested Iranian military help to counter terrorism. IRGC Quds Force commander Haj Qassem Soleimani was helping Iraq government becaause of the request.
Abu Mahdi Mohandis was leading Hashd al Shaabi or Popular Mobilisation Force that too was helping Iraq government against Daesh terrorists.
Both of them enjoyed legitimacy and played legitimate role. Hence, US Baghdad airstrikes amounted to an attack on Iraq sovereignty in violation of international law.
Pakistani nation condemn US
120 veteran scholars and mashaikh demand govt to join anti US bloc of Muslims.
In this regard prominent muftis, senior scholars and custodians of shrines issued a joint statement after a meeting.
Specially, they demanded that Pakistan government must oppose US bloc and its terrorism.
The eminent Muslim scholars belonging to various schools of thought met under the aegis of Ummat-e-Wahida Pakistan.
They strongly condemned US and Israel for Baghdad airstrikes.