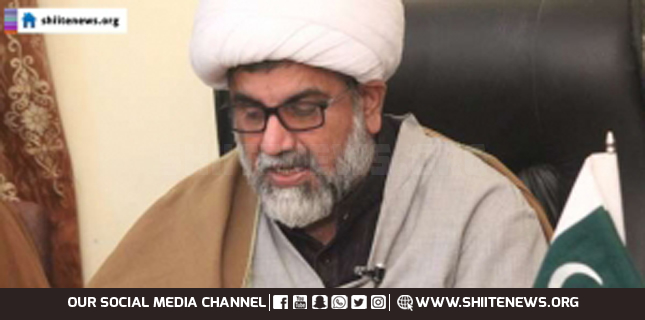 MWM leader slams US airstrikes as a serious challenge to Iraq sovereignty.
Majlis-e-Wahdat-e-Muslimeen secretary general Allama Raja Nasir Abbas Jafari said that US again violated sovereignty of Iraq.
Furthermore, he said that killing Iraqis under any pretext itself was violation of international law, let alone sovereignty of Iraq.
MWM leader slams US airstrikes
Moreover, he termed US airstrikes an attack on territorial integrity, security and stability of Iraq.
Allama Raja Nasir urged people of Iraq to remain beware of plots against them.
MWM leader emphasised unity of Iraqis to defeat their enemies.
Meanwhile, he said that United States administration and its troops support terrorists. He said attack on those who defended Iraq against Daesh terrorists show US support to terrorists.
Iraqi President, PM and NSC
On the issue of US airstrikes, Iraqi state, polity and people remain on same page.
In their reaction, they censured US and declared it harmful to Iraq and unacceptable.
At an emergency session of the Iraqi National Security Council, ministers and security officials described what they called a "grave violation" of rules governing the presence of U.S. troops in Iraq.
Washington Post reported it. It said that according to a statement issued after the meeting, NSC said Iraq will revisit the status of U.S. troops in the country, the statement said.
At the same time, Iraqi President Barham Salih expressed his opposition to the strikes in a telephone call with the U.S. Embassy, calling them "harmful to Iraq and . . . unacceptable," the news agency said. (WP report).
Tens of thousands attended funeral of Hashd al Shaabi volunteers. KH remains an integral part of the Hashd al Shaabi or Popular Mobilisation Units (PMUs).
Duirng the funeral, some thousands took a decisions on their own.
They rushed to heavily guarded US embassy in Baghdad's Green Zone. They vented their anger at the deadly US airstrikes.