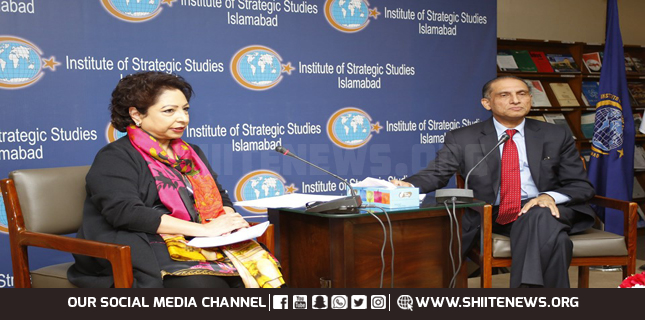 Lodhi alerts UN failure on Kashmir settlement affects public perception. Pakistan's former permanent representative at the United Nations in New York Dr Maleeha Lodhi said this in Islamabad.
Pakistan and the UN
While delivering a lecture at the Institute of Strategic Studies Islamabad (ISSI) on 'Pakistan and the UN: Challenges and Opportunities of Multilateralism,' she cited Kashmir issue.
Kashmir Pakistan's foreign policy priority
She noted Kashmir issue as Pakistan's core foreign policy priority that remains front and centre of the country's engagement at the UN.
Lodhi alerts UN failure on Kashmir
However, Dr Lodhi noted UN's failure to enforce its 11 resolutions on Jammu and Kashmir was affecting public perceptions in Pakistan about its utility.
Furthermore, she also pointed to growing skepticism about the UN all over the world, let alone Kashmir issue. Peace and security pillar of the UN remains the responsibility of the Security Council.
UNSC failure angers world
Moreover, she said the UN remains world's premier crisis management body. But its security council is widely seen to have fallen short on its principle role.
Particularly, Maleeha cited UNSC failure to resolve longstanding disputes and ongoing crises and in the case of Kashmir to enforce its own resolutions.
Multilateralism under threat
Former envoy said that it is happening at a time when multilateralism is facing new threats and challenges. She sees retreat of multilateralism due to major powers who reject or renounce treaties or walk out of international bodies.
She emphasised need of multilateralism, especially when a rules-based international system remains under assault.
However, Dr Lodhi suggested comprehensive reform of the Security Council to strengthen the role of UN that she considers important way to strengthen multilaterism.
India fails in abolition of UNMOGIP
Meanwhile, she claimed that Pakistan aborted attempts to cut budget of the United Nations Military Observer Group in India and Pakistan.
Had Pakistan not foiled those attempts, the opponents would have got UNMOGIP's disbanded. She further said the UNMOGIP's role had become more significant in view of the India's increased ceasefire violations.
India violate ceasefire
According to the ISPR figures on Oct 27, 2019, India had breached ceasefire 2,608 times.
United Nations Military Observers Group (UNMOGIP) working as UN's one of the oldest peace keeping missions.
UNMOGIP role in Kashmir
Specially, UN deploys it in Kashmir since January 1949 to supervise the ceasefire between India and Pakistan under the Security Council Resolutions 39 and 47.
Moreover, the UN finances UNMOGIP through its regular budget. Unfortunately, pro-India big powers succeeded in cutting its 2018-19 budget by 11.39pc.