Pakistan
Another bomb blast in Karachi mourning (Azadari) procession, 24 injured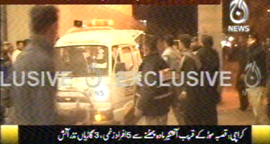 Second bomb blast in the mourning procession in Karachi, port city of Pakistan, during the last 24 hours has caused 24 mourners and Law enforcement agencies personnel injured, police confirmed. Three injured are in critical situation.
 
The bomb blast at Kasba colony turn in Orangi Town in Karachi. The blast took place when the Muharram procession of Tasu'a (9th Muharram) was on its way. The bomb was planted in the manhole at Kasba Colony. The bomb blast has caused 24 people injured. The police have cordoned off the area and rescue teams have started relief works. Bomb Disposal Squad have also reached the place of the explosion. The seven injured have been brought to Abbasi Shaheed Hospital while 12 in Qatar Hospital. The city has seen two blasts in last 24 hours.
Enraged protestors were torched the three vehicles in the reaction of bomb blast.
Earlier, the car bomb blast has hit the area of Paposh Nagar in the city, which injured the eighteen mourners, when the procession of 8th Muharram passing the designated routes.
Jafaria Alliance Pakistan leader Salman Mujtaba strongly condemned the failure of security measures during the holy month saying that second blast in the metropolis during the 24 hours were exposed the failure of government.