Pakistan
Multan: ISO rally condemns Khanpur Tragedy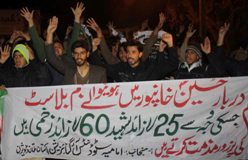 Imamia Students Organisation Multan chapter staged a demonstration on Tuesday to condemn the terrorism in Khanpur chehlum procession.
A large number of students participated in the demo. They were chanting slogans against the known terrorist of banned Lashkar-e-Jhangvi namely Malik Ishaq who belongs to district Rahim Yar Khan in which Khanpur is also situated.
"Malik Ishaq, a notorious terrorist of the banned Lashkar-e-Jhangvi has been given protection and protocol by Punjab government," said Javad Jafri, divisional chapter president of ISO Multan.
Yafas Naveed Hashmi and other ISO officials also spoke. They said that Punjab government was responsible for the tragedy. They said that Malik Ishaq was being provided security and innocent citizens were being denied security and safety. They said it is Punjab government's patronage that encouraged terrorist to perpetrate their heinous crimes.
They cited that high police official had not admitted it was a bomb blast. Instead, he tried to absolve himself saying that alam pak had touched wires or transformer exploded due to sparking. Later, he had to admit the factual position.
They said district administration too was involved in the case therefore DPO should also be suspended forthwith. They also demanded that provincial minister Punjab Rana Sanaullah and DPO should resign forthwith.
They were carrying placards inscribed with slogans against Rana Sanaullah and others.