Pakistan
9th Muharram (Tasu'a) processions being taken out in country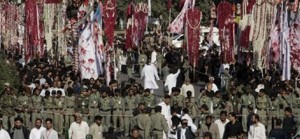 The processions on the ninth of Muharram (Tasu'a) are being taken out amid stringent security across the country on Sunday.

In federal capital Islamabad, the central mourning procession emerged from Markazi Imambargah in G-6; the procession will pass traditional route to end at Imambargah.
In Karachi security has been beefed up for Muharram 9th processions in the wake of yesterday's terror incident at Paposhnagar. The procession has began from Nishtar Park and will route through MA Jinnah Road to reach Hussainia Iranian Imambargah Kharadar in evening.
The central procession in Peshawar emerged from Imambargah Hussainia Saddar that will end at the same Imambargah after passing through the traditional route. Sadder area of Peshawar has been sealed on the occasion.
In Quetta the nine Muharram procession will start from Imambargah Nasirul Aza and will march on its traditional route to conclude at the same Imambargah.
Security has been heightened in Quetta and closed circuit cameras have been installed at the route of the procession for security.